The Latest on Ukraine and the Global Food Crisis - How You Can Support the United Nations World Food Programme
Hunger is a lived reality for millions across the globe. According to the United Nations World Food Programme (WFP), 276 million people are facing severe hunger today – including 44 million people on the brink of famine. Underpinned by poverty and inequality, the main drivers of hunger are conflict, climate shocks, COVID-19, and rising food and fuel prices. Now, the war in Ukraine is putting millions more at risk of hunger. 
Considered the "breadbasket of Europe," Ukraine and Russia account for over a third of the world's wheat exports. Due to the eruption of war in Ukraine, the country's spring planting season and the shipment of exported goods have been disrupted. In many cases, farmers have fled their homes. The blockade of key ports in the Black Sea and Sea of Asov is further constraining Ukraine's ability to export food – putting global food security at risk. 
On the ground in Ukraine
Ukrainians themselves are also facing critical shortages of food, water, and other essential supplies, with nearly 50% of people inside Ukraine worried about finding enough to eat.
Since the beginning of April, the U.N. World Food Programme has reached more than 3 million people in Ukraine with food and aid, including over 170,000 people who've received nearly $11 million dollars worth of cash assistance.
"[...] each person in a household gets the equivalent of $75 in the Ukrainian hryvnia over a month. The beauty of the cash is that these are people on the move. They can easily carry the money." - WFP
However, strains are being felt by the organization as global needs continue to rise:
"[...] food and oil price hikes are driving up our monthly operational costs by up to $71 million a month, reducing our ability to serve those in need right at the moment when the world faces a year of unprecedented hunger." - Tomson Phiri, spokesperson for the U.N. World Food Programme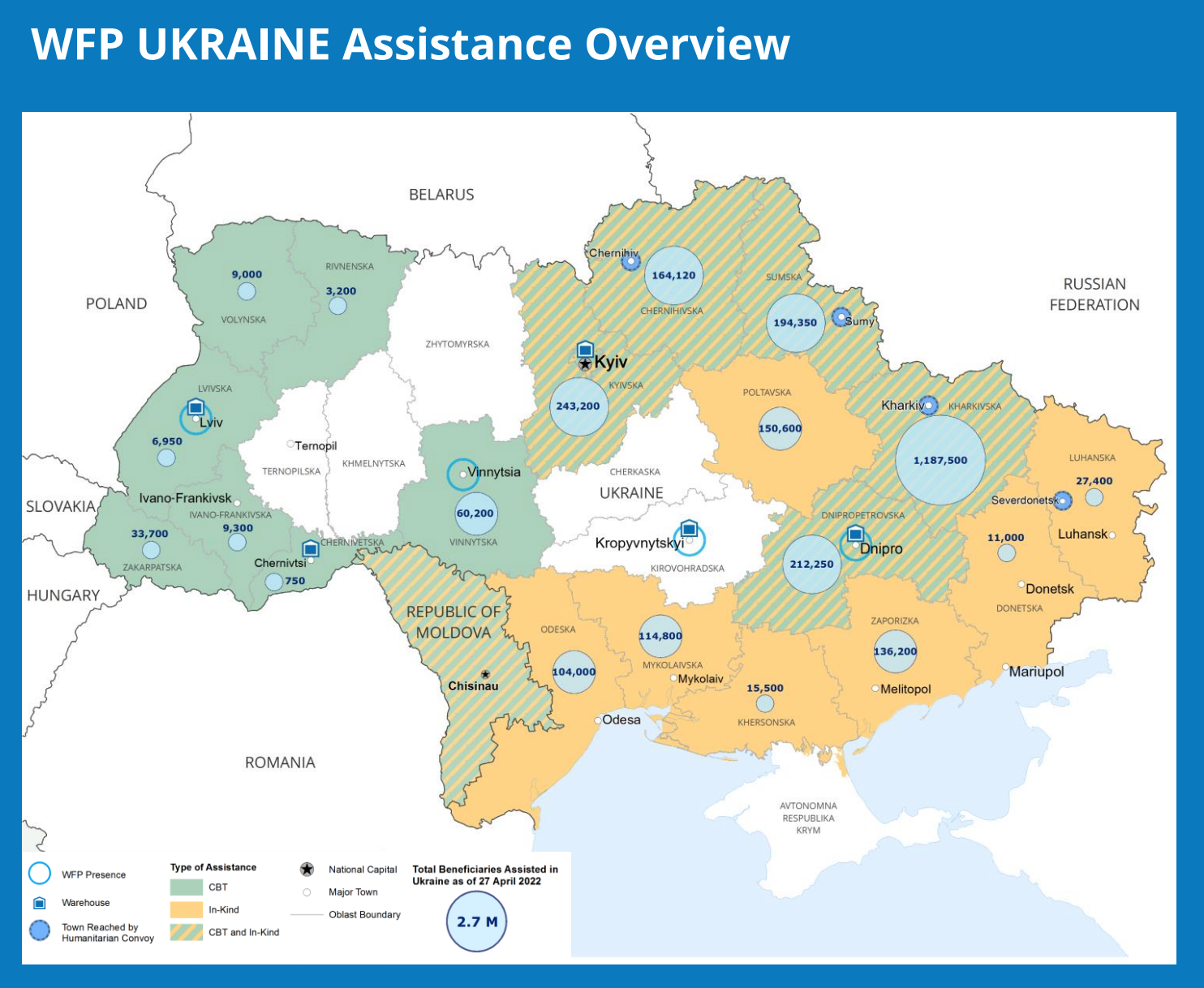 Click here to learn more about the crisis in Ukraine and donate to support WFP's work around the world.
The war in Ukraine is not taking place in a vacuum. Its ramifications are stretching across the globe and exacerbating existing hunger crises. Food prices have increased sharply, reaching an all-time high in February 2022. Many families are now unable to afford a basic meal. In the over 80 countries where the U.N. World Food Programme works, severe hunger is expected to rise by 47 million people if the war in Ukraine continues – meaning 323 million people globally could face severe hunger in 2022. 
In response to increased needs, the U.N. World Food Programme is scaling up operations in Ukraine and other countries in crisis. As humanitarian needs escalate, timely and adequate funding is urgently needed to sustain operations. 
How you can support this effort
We at Idealist Consulting are honored to partner with organizations like World Food Program USA which supports the mission of the U.N. World Food Programme by mobilizing American policymakers, businesses, and individuals to advance the global movement to end hunger. See more details on the U.N. World Food Programme's work in Ukraine here.