Understanding Salesforce's Nonprofit Cloud and the Nonprofit Success Pack (NPSP)
Anytime Salesforce.org announces new products for nonprofits, we're excited at Idealist Consulting; new products mean new possibilities for nonprofits to make an even greater impact. New announcements also send us into a flurry of research and conversation: is the announcement primarily a marketing play to gain new clients, or is there an impact for existing customers?
So when Salesforce.org announced the launch of Nonprofit Cloud in June 2018, we were curious to better understand the motivation behind it, as well as the implications for nonprofit customers.
We sat down with Kate Mirkin, Director of Product Marketing at Salesforce.org, to ask questions we have gotten from our clients and staff. Responses here are edited for clarity.
Q: First things first, what is the difference between NPSP and Nonprofit Cloud?
A: Nonprofit Success Pack (NPSP) is a specific product within Nonprofit Cloud. NPSP is data architecture that sits on top of Salesforce and is preconfigured for the types of use cases that nonprofits need, supporting Donations, Households, and more.
Nonprofit Cloud on the other hand, encompasses much more. Nonprofit Cloud is the complete set of Salesforce technologies that address the technology challenges that nonprofits face.  It includes Salesforce products like Sales Cloud, Marketing Cloud, and Communities - as well as products built specifically by Salesforce.org for nonprofits. Right now that is primarily NPSP, but we are building much more. Importantly, Nonprofit Cloud does not encompass HEDA (Higher Education Data Architecture) or Philanthropy Cloud.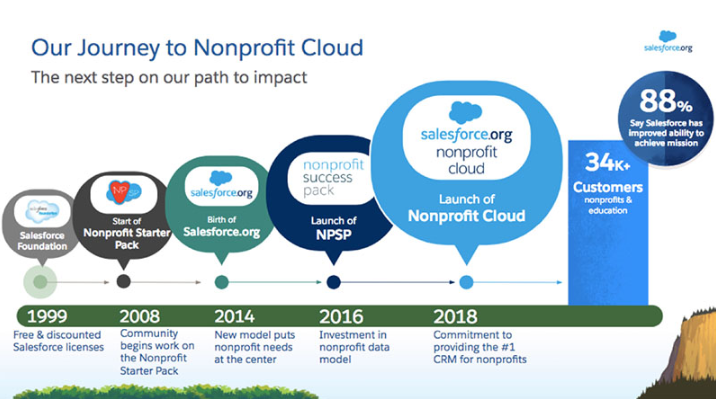 Image credit: Salesforce.org
Q: Is there any implication for existing NPSP customers?
A: For current customers, the fact that Nonprofit Cloud exists is a reason to invest more heavily in the platform. Salesforce.org is committed to building and investing more heavily in nonprofits. It's a message to the sector: we're here to invest in the success of our customers, and we have the full back of a cloud platform to do that.
Current customers do not need to think about changing their existing licenses, or worry about cost implications. Nonprofit Cloud has many a la carte additions that you can discuss with your Salesforce.org Account Executive.
Q: How is Nonprofit Cloud similar or different than other Salesforce Clouds?
A: Nonprofit Cloud is more similar to something like Health Cloud or Financial Services Cloud than something like Marketing Cloud. It is designed to be used as an industry application on top of the existing Sales Cloud. You can take different pieces of the Salesforce portfolio (for example NPSP, Pardot, Marketing Cloud, Communities, and 3rd party applications) and customize them to meet the unique need of your nonprofit.
If a customer is using NPSP + Service pack plus Communities, now it's all under Nonprofit Cloud.
There are three solution lines you'll hear about within Nonprofit Cloud:
Engagement
Fundraising
Program Management
Salesforce.org Account Executives and consultants will recommend customizations depending on your use case. Nonprofit Cloud lets you pick and choose your Salesforce products that apply to your specific use case.
Q: Does Nonprofit Cloud include apps?
A: Partner apps that are built on the Salesforce platform are a pillar of Nonprofit Cloud. We rely heavily on partners and our partner ecosystem is one of our biggest strengths.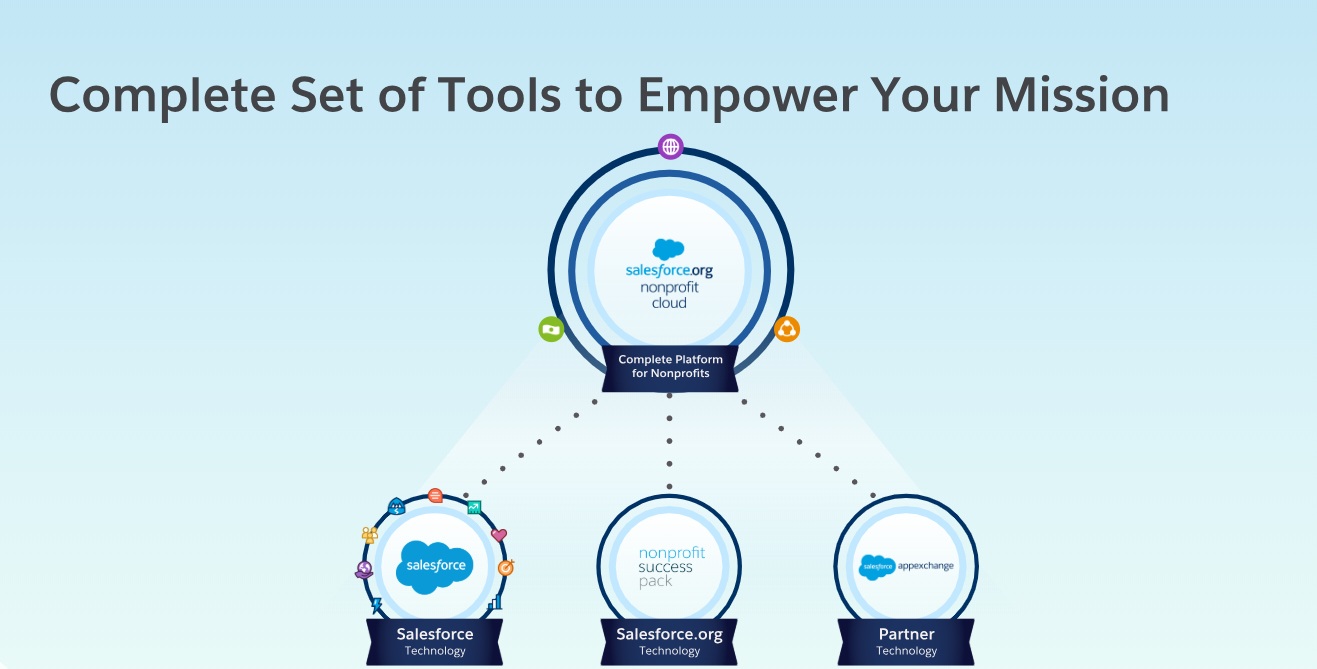 Image credit: Salesforce.org
Nonprofit Cloud does not specify preferred apps for donations, etc., but we do recommend applications built by partners who are part of the Salesforce.org partner program.
Q: How would you like partners and clients to describe NPSP vs. Nonprofit Cloud?
A: Don't conflate the two. NPSP is part of Nonprofit Cloud and they should not be referred to interchangeably. Nonprofit Cloud encompasses NPSP and so much more. Nonprofit Cloud is proof that Salesforce provides all the solutions to nonprofit challenges. NPSP provides part of this, and the rest of the Salesforce platform is what allows nonprofits to be successful.
Nonprofit Cloud is our commitment to the nonprofit sector, and proof that we are continuing to build and invest in solutions. It's our commitment to continuing to support nonprofits and the amazing work they do. And it's gratitude to the nonprofit Trailblazers who inspire us to do what we do every day.
Looking to learn more about all the solutions Salesforce offers to nonprofits?
Click the button below to sign up for our monthly newsletter, delivering the latest insights in the Salesforce for nonprofit community.