The Basics of the Salesforce-Marketing Cloud Account Engagement Integration
Three years ago, Salesforce admins almost never asked me questions about Marketing Cloud Account Engagement (powered by Pardot). Now it is an almost daily occurrence on our team because more people are on Marketing Cloud Account Engagemenet (MCAE), and more pieces of MCAE connect to Salesforce than they used to. And marketing is becoming more and more embedded into operations, but that's a topic for another day.
Why is it worth Salesforce admins learning about MCAE? Well for starters, MCAE was acquired by Salesforce in 2013 and shut down all its other connectors in 2017, making MCAE the only marketing automation platform to be developed alongside native Salesforce features. Since then, new features are increasingly tied to Salesforce's core technology (especially when it comes to reporting). A few notable ones are MCAE Lightning, User Sync, and Connected Campaigns. 
Now more than ever, Salesforce admins need to know more about how MCAE works. I have two goals in writing this post:
Give people who learned Salesforce first some tips that will help them collaborate better with their MCAE counterparts.
Remind seasoned MCAE users how the systems work together.
There are three areas where Salesforce and MCAE interact the most: users, prospects (AKA contacts or leads), and fields.
How Users Work Between Systems
Licenses and user seats behave differently (for now) between MCAE and Salesforce, and users can sometimes get caught without the right access. Depending on when you started using MCAE, managing users will look different.
If you started using MCAE before 2019, users were created in MCAE with unlimited seats available. If you started using MCAE after the summer '20 release, all new accounts have Salesforce User Sync turned on. 
With Salesforce User Sync enabled, you can map Salesforce Profiles to MCAE User roles.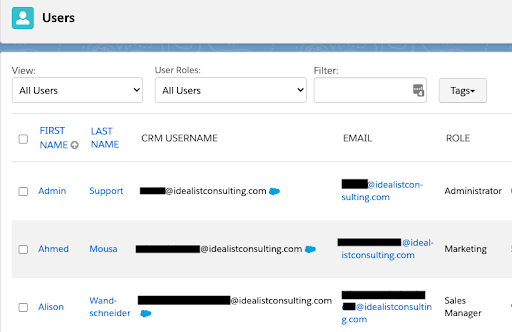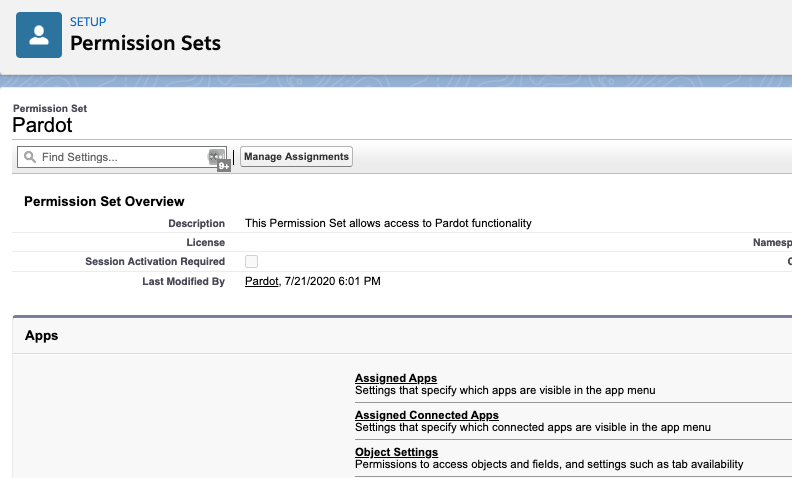 But with the Spring '21 release, Salesforce is discontinuing MCAE-only users and moving on to single sign-on (SSO). Salesforce security is driving this. And if you only use MCAE, no worries! To support customers with MCAE-only users who do not need a full Salesforce license, MCAE will be bundling Salesforce Identity licenses with all MCAE editions. 
So how should you manage users? Here's my recommendation:
Move all users to SSO as soon as possible.
Evaluate Salesforce User Sync for your organization if you purchased before 2020.
If you haven't turned on User Sync and would like to, you find the option to do under the User Sync tab when editing the Salesforce connector.

How Prospects Sync Between Systems
Ideally, you want as much data consistency as possible between Salesforce and MCAE, but if you have been on Salesforce for a while, it's not a good idea to bring everything over immediately. But before getting into my recommendation on how to sync prospects, you should know how prospects are created.
There are 2 primary ways to create a prospect: 
You can import directly into MCAE using a CSV file. 

When using this method include the Salesforce Lead/Contact ID whenever possible.

You can import into Salesforce and sync into MCAE. 

This is better for complex data migration needs.
The MCAE Connector allows you to let any new Lead/Contact created in Salesforce be created in MCAE. (You can also apply marketing data sharing rules for more granular control if you're on the v2 connector.)
Below is what each import looks like: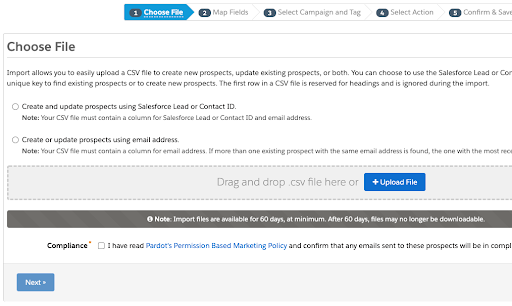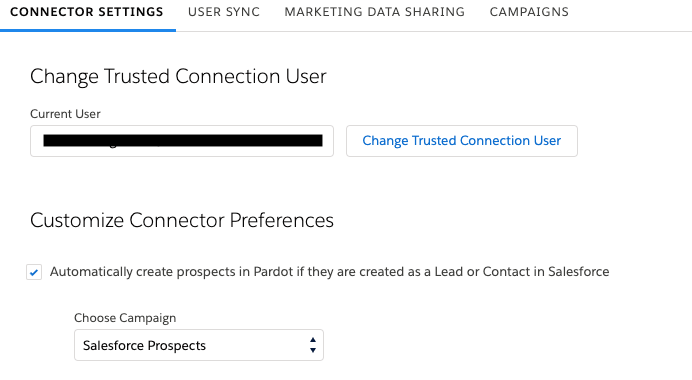 So now that you know how a prospect is created, here's my recommendation on how to sync them:
If you're new to MCAE, be strategic about who you initially bring into MCAE since you pay for every 10,000 prospects. You may want to limit it to people with valid opt-in emails from the past 3 years, for example. 
Use the Salesforce Connector setting "Automatically create prospects in MCAE if they are created as a Lead or Contact in Salesforce" and create a specific campaign such as "Admin: Salesforce Prospects."
Email preferences are managed through MCAE, so if you have any checkboxes beyond the standard Email Opt-out on the Lead/Contact records, have a conversation about moving that business process over to MCAE.
How Objects/Fields Sync Between Systems
It's important to know that Salesforce data can't be used for creating dynamic lists or merge fields if it's not mapped in MCAE. Here's what can sync:
Note: Custom objects can be mapped if you have Advanced edition or buy an add-on.
Here's what it looks like:


Before you start syncing all your custom objects/fields, here's my recommendation: map out the business case for bringing custom objects/fields into MCAE first. You may find that you don't need to sync an object or field and there's a simpler way to sync.
Here's an example: A recent client wanted to merge a formula field that changed to a generic name if a salutation didn't exist. MCAE has built-in functionality to do this with Handlebars Merge Language (HML), so the formula field wasn't necessary.
Campaigns vs. Lists
Most Salesforce users are used to grouping people in a Salesforce campaign before sending an email because that's how platforms like MailChimp work. You can do this for MCAE but you don't have to. Here's why:
MCAE relies on dynamic or static lists for every email send. Dynamic lists can be created based on filter criteria and will auto-update when new people match criteria.
You can update campaign member status through segmentation rules, automation rules, or completion actions.
Cool use case: If you want to suppress people from receiving ongoing communications about an event/webinar once they've registered, it's super easy to create a suppression list using campaign member statuses. 
Take the MCAE/Salesforce Integration to the Next Level
When you're ready to move beyond the basics, the next place I would explore is reporting. This is where you will really be happy that you took the time to implement Connected Campaigns and MCAE Lightning because you can't use any of these reporting tools without it.
If you are beginning to feel limited by MCAE reports, here are the reporting features I would look into next, by increasing complexity:
Need some assistance untangling a Salesforce-MCAE mess? We won't judge!