7 Chrome Extensions for Salesforce users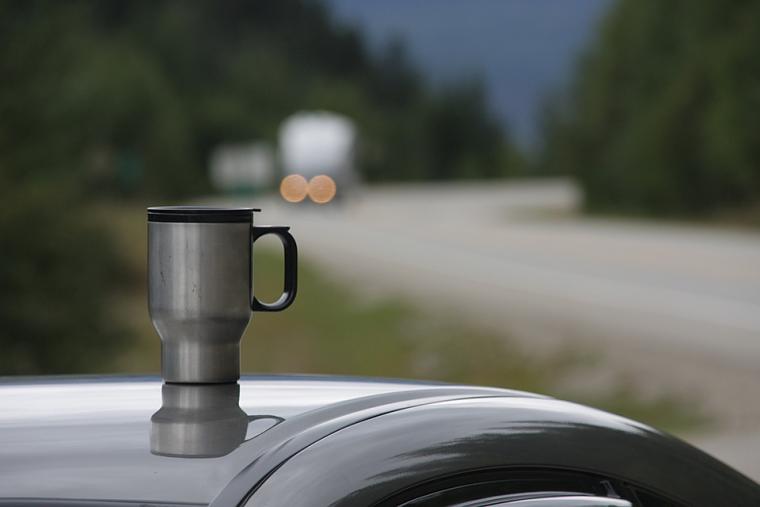 At Idealist Consulting, we don't just work in Salesforce and Pardot - we're also like most office workers, bouncing around other web applications frequently. Since we work heavily in the Google suite, we find Chrome is a primary home base for us. And so do most of our clients. Globally, Chrome is the most popular web browser, with over 63% of all online traffic coming from its browser. So it's no surprise that as the most popular platform, there are many Chrome extensions for Salesforce users.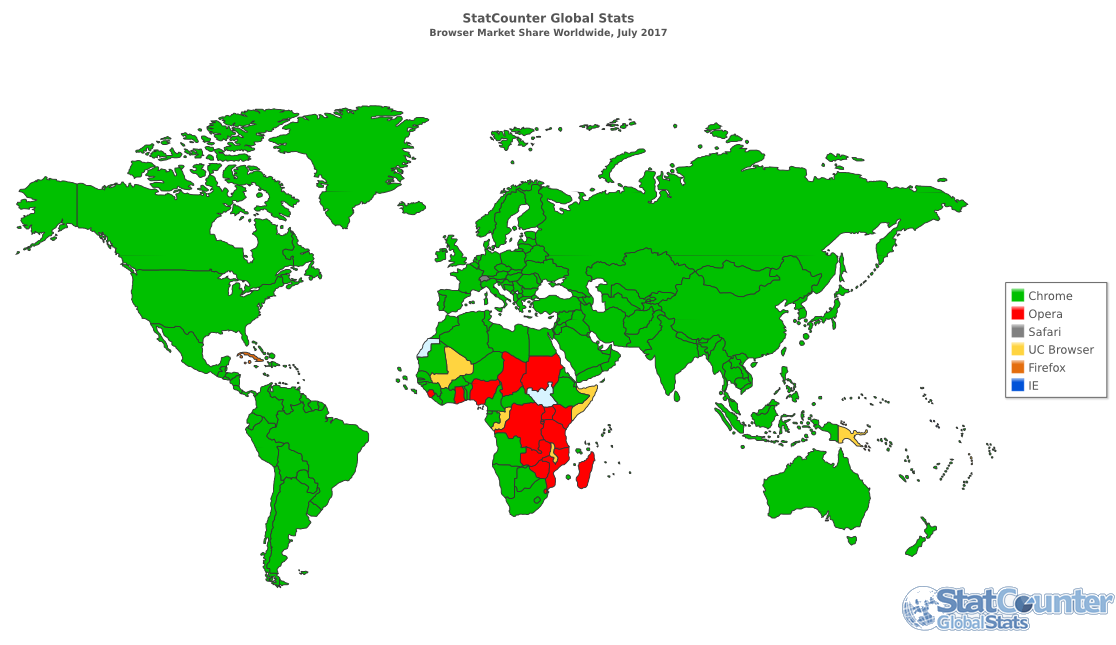 Notice, we did not say Chrome extensions for Salesforce admins. There are many articles on that subject, including this great post from the infamous Salesforce Ben blog.
Our list of Chrome extensions for Salesforce users
As most users are not admins, we wanted to craft a list that could help any Salesforce user work more productively, whether that's editing a record, writing an email, creating a task, or just logging in. As you can imagine, we've learned about some pretty great Chrome extensions from clients and other users. Below is our list of the Chrome extensions for Salesforce users.
1. Last Pass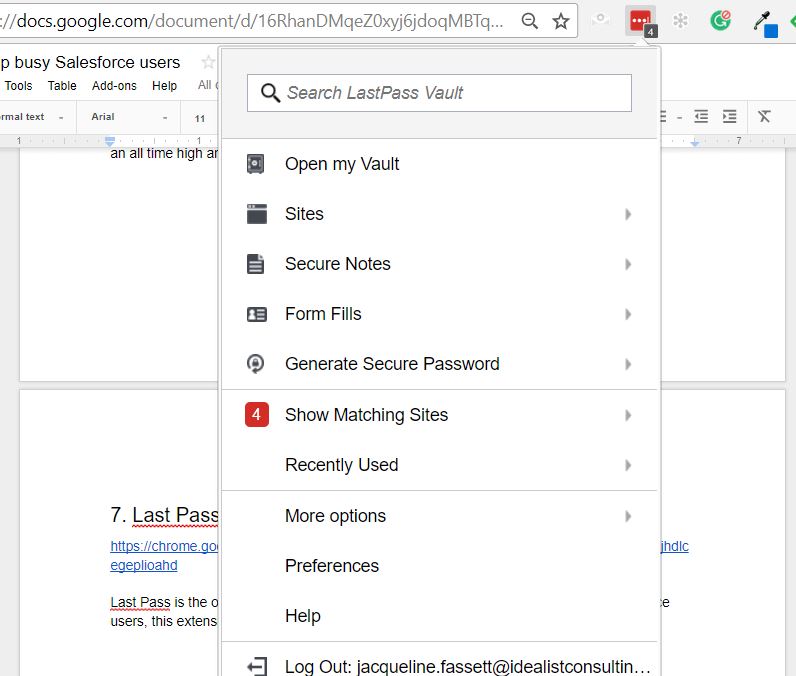 Last Pass is the only must-have on this list. Not just a good Chrome extension for Salesforce users, this extension is superb for every Chrome user. It's an award-winning password management solution that can be accessed from any device, allowing users to no longer be beholden to their device's Chrome password manager. The extension helps you create stronger passwords or random ones to better protect your information. If you want to step up your password management and protection in this age of all-to-easy to hack platforms, I highly recommend Last Pass.
2. Just Not Sorry
You can get Just Not Sorry here.
We highly recommend this for anyone looking to become more intentional about using active, non-apologetic language. This extension acts like spell check but instead of underlining spelling errors, it underlines words or phrases like "sorry", "just" and "I feel" in a dotted orange line. A direct message appears when you hover over the dotted line alerting you to how your message will be perceived. Though this message of "I'm sorry" has a different cultural context in every country or region, for professionals working in the United States it's a handy tool to stop you from undermining your own messages.
3. Boomerang
You can get Boomerang here.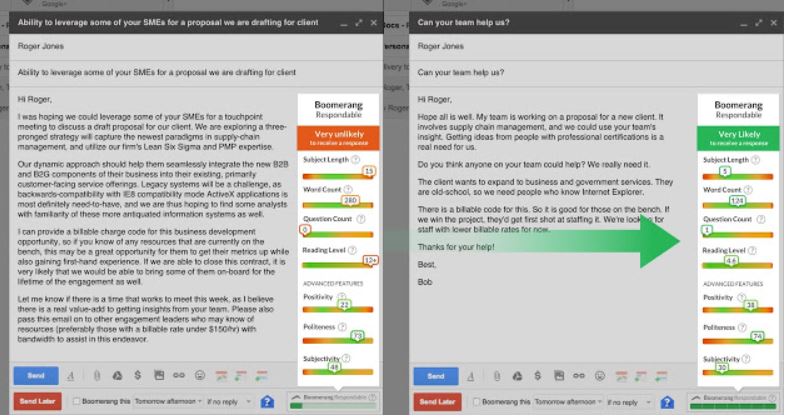 There are many apps and extensions named Boomerang out there, but the one we're talking about helps you write better emails. Dubbing itself "the ultimate email productivity tool", this Chrome extension does include some handy features for Gmail users.
You can schedule emails to be sent later, track responses, and even use AI to write emails that will be read. Plus this extension helps you to free yourself from email interruptions, by hiding emails until you have the brain space or time to read them with their "snooze" feature.
4. Grammarly
You can get Grammarly here.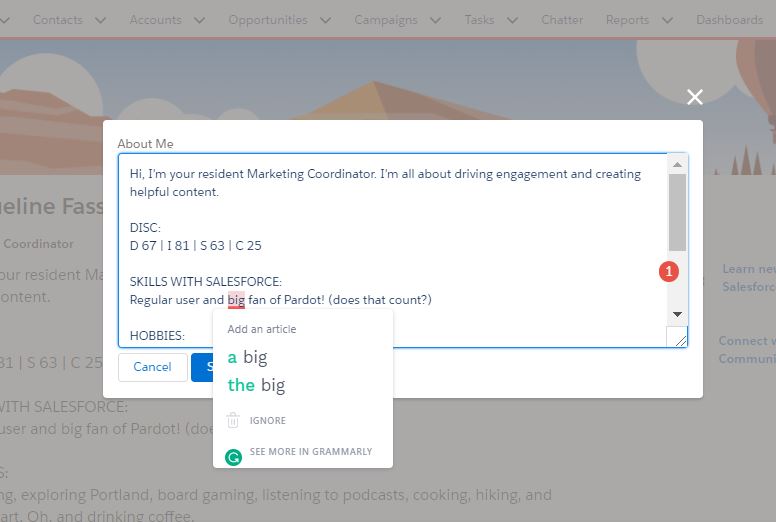 One of my favorite Chrome extensions for Salesforce users is Grammarly. As a user who frequently enters notes into records, send an email, or creates tasks in Salesforce (Lightning and Pardot, to be specific), this extension keeps me in check. Grammarly is a top communication extension offering an excellent grammar and spell check tool. As the Harvard Business Review said, "Good grammar is simply good business."
5. Toby
You can get Toby here.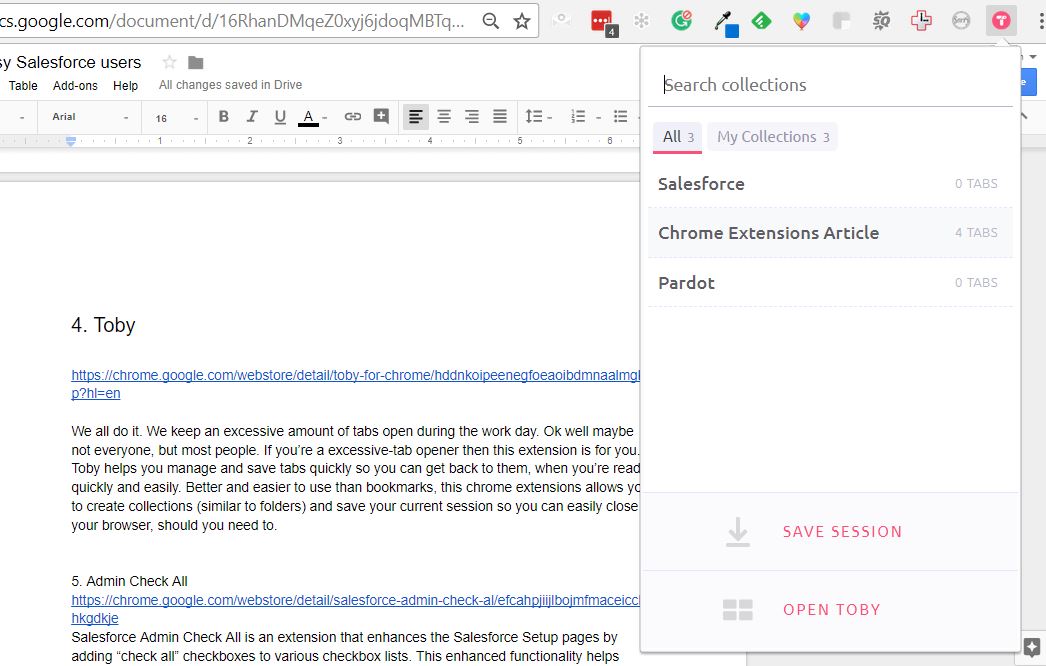 Tab abuse: we all do it. Most of us keep an excessive amount of tabs open during the workday. If you're an excessive-tab opener then this extension is for you. Toby helps you manage and save tabs quickly so you can get back to them when you're ready, quickly and easily. Better and easier to use than bookmarks, this Chrome extension allows you to create collections (similar to folders) and save your current session so you can easily close your browser, should you need to restart or exit Chrome quickly.
6. Admin Check All
You can get Admin Check All here.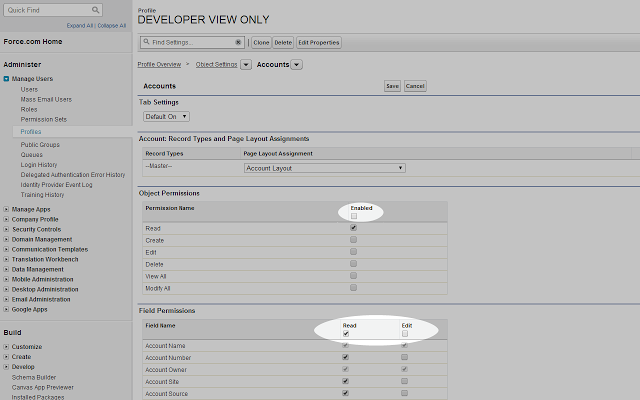 This one is geared towards Salesforce admins but could also be helpful for Salesforce super users. Admin Check All extension allows you to "check all" checkboxes to various checkbox lists. This helps admins or super users save time and avoid hand cramps from having to manually check each checkbox in a list.
7. Rescue Time
You can get Rescue Time here.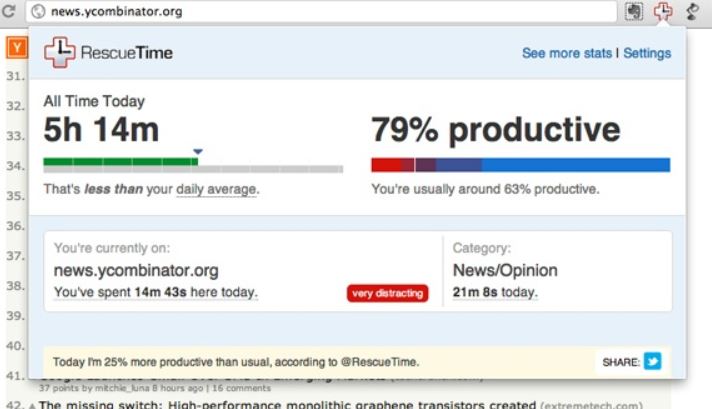 The Rescue Time Chrome extension really helps me stay on task and be more productive. By visually showing you where you've spent your time in a work day and rating your productivity level, Rescue Time keeps me on top of my digital life. Paired with Boomerang's "snooze" feature, this is one of the best Chrome extensions for Salesforce users looking to take their productivity to an all-time high and distractions to an all-time low.
After a decade of consulting, we've found that the old adage still rings true: working smarter rather than harder is the key to success. If you're looking for more resources to help your team stay productive, check out our monthly newsletter that delivers inspiring articles for Salesforce admins and users from around the web.