Best Practices in Soliciting Major Donors from WealthEngine
WealthEngine joined us for our One Small Step for Fundraising Webinar series earlier this spring to share the latest development trends and excellent tips for professionals cultivating major donors. Here are some highlights from the webinar with Sally Boucher of WealthEngine and Danielle St.-Germaine Gordon of Guthrie Theater.
First of all, what is a major gift?
WealthEngine did a large survey recently about major gift fundraising, and based on the responses of 1177 organizations, they saw spikes at $500, $5000 and $10,000. Thus, a major gift can be anything you define it to be, depending on your organization.
WealthEngine finds it helpful to look at the solicitation process through the lens of the complete donor cycle and this webinar focuses on the first five steps: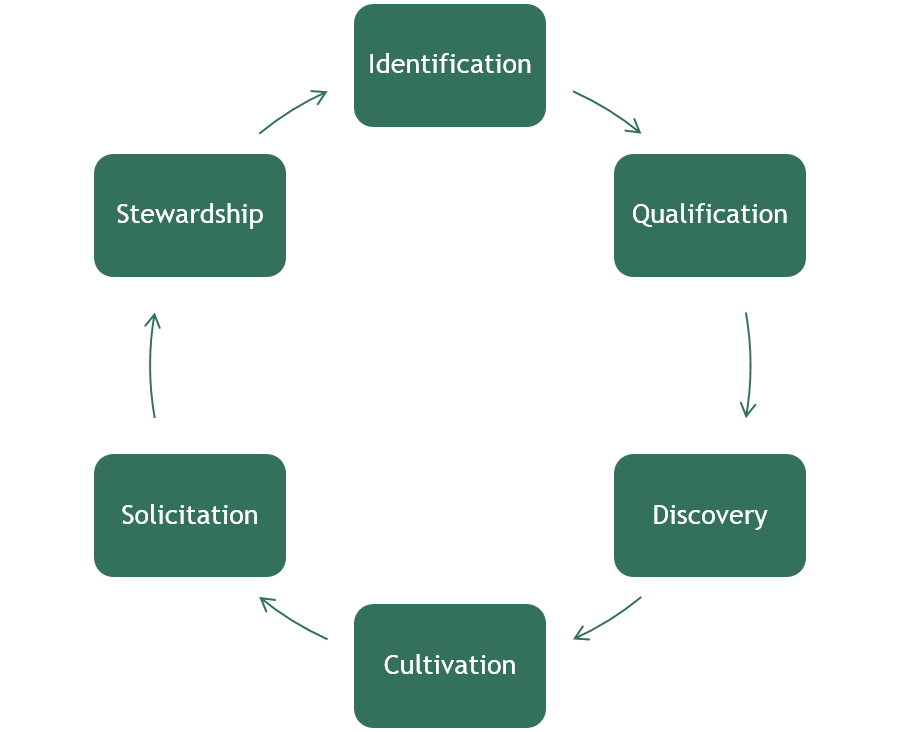 Here are some best practices from each step of this process as well as the primary question that should guide your planning at each stage.
Danielle St.Germain-Gordon from the Guthrie Theater provides great pro tips throughout based on her own experiences using WealthEngine to cultivate major donors.
1. Identification
Question: Who are my major gift prospects?  Where/how can I find more prospects?  
You will need to consider strategies for both existing and new donors. Here are some specific tips.
Use a combination of methods to identify major gift prospects in your database.
Peer screening

Data screening
Find new prospects using all the tools at your disposal
In the news

Published donor lists

Peer referrals

Custom prospect lists
Pro tip: You want to get to people before they make a commitment elsewhere. Make a small targeted list of "most promising prospects" and look at capacity through WealthEngine, then work through the list. Ask your board if they know anyone on the list and if they can invite them to an upcoming event.
2. Qualification
Question: Does this prospect meet my minimum criteria for a major gift prospect [however your organization defines this]?
Find enough data to answer the question: "Is this a major gift prospect?"
Capacity – can s/he make at least a gift of $X over 3-5 years?

Affinity – Does s/he have some connection to our organization?

Philanthropy – Has s/he indicated a philanthropic propensity by donating to our or other charitable organizations?
Pro tip: Remember that everyone has to give their first major gift sometime - don't discount new donors for larger amounts. And don't assume that your philanthrophy "competition" is other like-minded organizations - consider who else is competing for your donor's extra dollars, from nice restaurants to college investments. Different markets are different - take time to learn what motivates your donors to give.
3. Discovery
Question: Does this prospect have the interest to further engage with our organization?
Ask for permission to speak with them: "Is this a good time?"

Be open about who you are and what you do

Ask open-ended questions

Listen for cues of reluctance or interest

If there is interest, make an appointment to visit face-to-face, or get permission to contact them at a later time

If there is not interest, move on!
Pro tip: Be transparent about what you know about your prospects. A bait and switch never leads to a sustainable funding source. Start with "I would like to meet with you. I don't plan to ask you for money on the first meeting."
4. Cultivation
Question: How can I move this prospect closer to our organization? What are his/her specific interests and passions?
Identify organizational touchpoints: what events or communications can you use to nurture your donor relationships?
Learn the important "rights"
Right time

Right amount

Right partners

Right purpose
Pro tip: There is definitely such a thing as waiting too long. Don't hold out for one set amount - you can always go back for more if you have an open, honest relationship with a prospect.
5. Solicitation
Ask for a specific gift amount for a specific purpose
Make sure you have the decision makers present

Prepare written/graphic materials as appropriate

Ask for a specific amount for a specific purpose

Don't be first to speak after the ask

Establish next steps
Pro tip: Nebulous doesn't work. The majority of fundraisers are not direct, so you will set yourself way ahead of your competition if you are open with your goals.
WealthEngine has over 50 data elements that can be pulled into Salesforce and can be a powerful addition to your fundraising engine. Watch our webinar recording here for more great examples and tips from Danielle and Sally and learn more about WealthEngine here.
Page Images