Don't Miss the Grassroots Mobile Survey App Demo at Dreamforce
What is the Grassroots Mobile Survey app?

Grassroots Mobile Survey (GRMS) started life as a proof-of-concept project for a nonprofit in India who could not find an affordable tool for offline field work. Recognizing the need for similar capabilities at other nonprofits, GRMS was adopted by the Open Source Commons (OSC) with the goal of bringing free offline field survey capabilities to all nonprofits. The Open Source Commons is made up of teams of volunteers that work on solutions for nonprofits that are using Salesforce.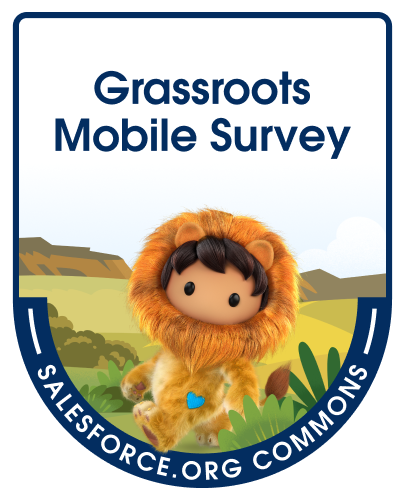 The GRMS demo is part of the Innovating for & with the Community: Nonprofit Solution Demo session on Wednesday, Sept 21st at 12:30pm PDT in Room 2012 (Moscone West, Level 2).
What impact will GRMS have for nonprofits?

It's often difficult for small nonprofits to afford the technology they need and the licensing for 3rd party applications to add into Salesforce. Combine that with the need for many of these same nonprofits to do remote work for anything from health care checks to refugee intakes to natural disaster response intakes in areas where they may not have internet access, and you have the gap that GRMS seeks to fill. GRMS combines Salesforce, Heroku, and a mobile app to create a customizable, free application for these situations that any nonprofit with Salesforce can use, both online and offline. 
GRMS provides the data model, authentication and middleware setup, and a mobile app (both Android & iOS) for nonprofits to enable them to do critical field work. A GRMS Sample Survey package with Home Care and Disaster Relief surveys already configured is also available to help admins get started with GRMS. After you have installed and configured GRMS in your Salesforce instance, field workers can head out to collect data using the mobile app and then upload it once they have an internet connection or when they are back at the office. As those records flow into Salesforce, admins can leverage low-code tools like Flow to create new client records, update existing ones, and create or update related records. GRMS also lets a field worker have a client list ready to go on the mobile app so they can easily select an existing client for a survey. 
The Grassroots Mobile Survey app will be available soon on the Salesforce AppExchange!
Why should I attend this session?

The GRMS demo will be part of the Innovating for & with the Community: Nonprofit Solution Demo session on Wednesday, Sept 21st at 12:30pm PDT. You'll get to see the GRMS app and get a peek under the hood to see how it all works. You'll also get to see 5 other great app demos from other nonprofit community members. Some of the GRMS team will be demo'ing the app at the OSC Dreamforce Community Sprint being held on Thursday, Sept 22nd at the Salesforce Tower in San Francisco.
See you at Dreamforce!