Event management apps for nonprofits with Salesforce
Event management apps for Salesforce are some of the most common solutions we integrate for nonprofits. Because of this, we have developed a sixth sense for where these solutions are headed and what works.
While not every nonprofit needs an event management solution, almost all nonprofits want one. If your nonprofit's events are generating revenue, it is probably worth making an event management app a priority.
Before you pick an event management app
You'll want to do your homework and consider your requirements before you sign on to a new event management solution. In this blog post on how to pick an event management solution, we outlined the questions to ask and how to begin your research into your event needs.
Your options for event management apps
While there are a number of solutions out there, many specialize in one feature that's helpful for events such as ticketing, auction, or event registration forms. If you'd like a quick breakdown of all your Salesforce event management options here's a great public crowd-sourced document to review.
For the purpose of this blog post, we are focusing on Salesforce apps that are solely an event management solution or have a standalone event management component. The key offerings include:
Ticketing
Check-in
Payment Processing
From there, the functionality can greatly vary based on your event types and needs. The solution, or suite of solutions, recommended depends on many variables and your organization's needs.
Below we outline our top event management app recommendations, including what type of event they are best for, as well as their pros and cons.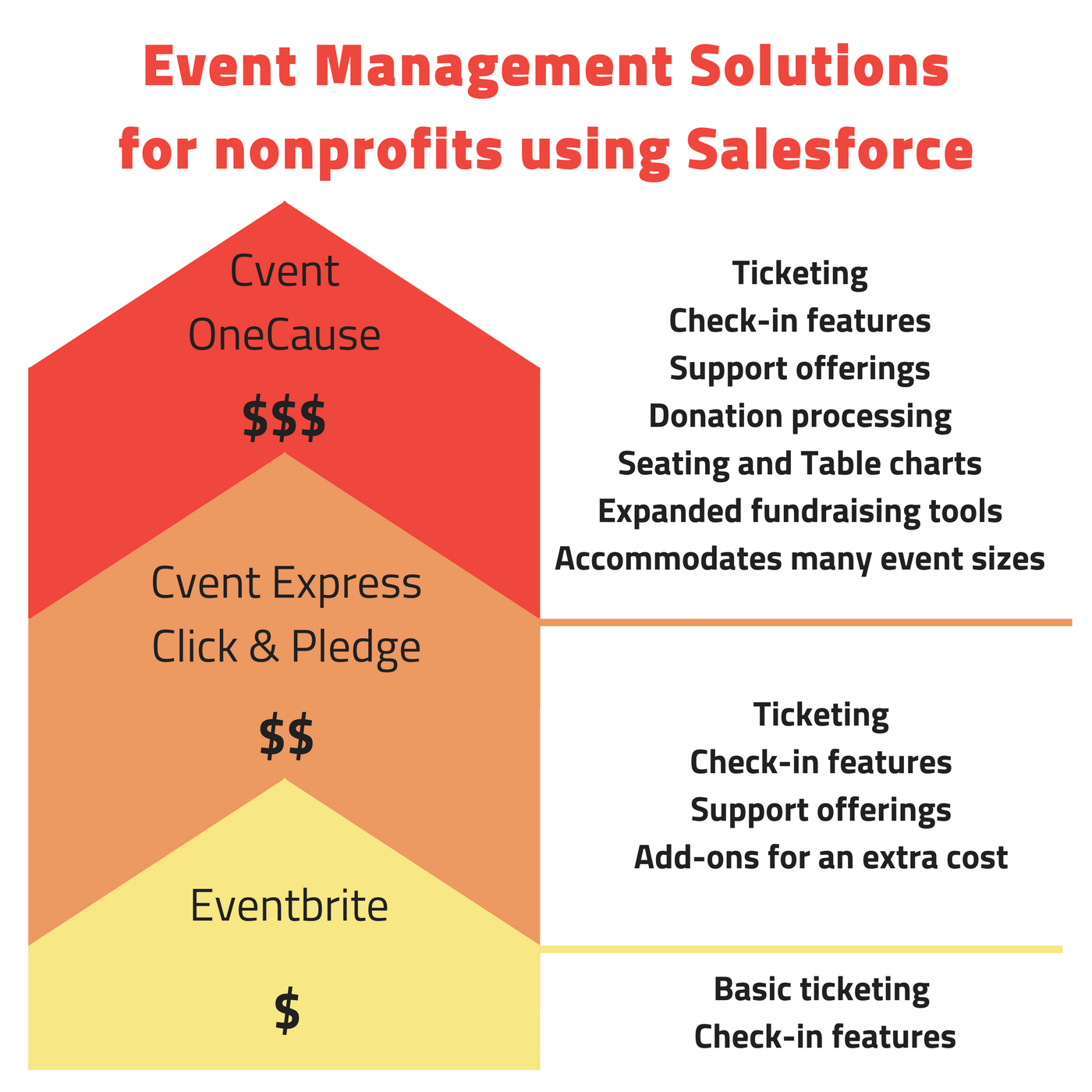 Workato's Eventbrite sync
Eventbrite is one of the most popular event management solutions online. Eventbrite works well for smaller one day or one-off events. It's not made for conferences with multiple tracks or days.
While Eventbrite does have their own Salesforce integration, our consultants have found it to be limited in some cases. It is also not available on the AppExchange.
One of the better options for using Eventbrite with Salesforce is Workato's sync. Workato is a middleware solution that connects two pieces of software (such as Salesforce and Eventbrite) that do not already have a connection.
Workato's Eventbrite sync on the AppExchange
Ratings and reviews as of March 2018: 5.0 with 11 reviews
"After many frustrations with Eventbrite's app, someone recommended Workato. I am so grateful they did because it is terrific!"
Cvent
Meant for larger organizations who are regularly organizing large-scale conferences, Cvent is a heavy investment. If you have multiple speakers, multiple tracks, and courses over a multi-day event, this Salesforce app is one you will want to consider.
The solution can be costly but they do offer a more affordable and modular (meaning less customizable) option called Cvent Express meant for smaller meetings and conferences. Cvent also owns RegOnline, a relatively new acquisition for Cvent, that includes a big host of features such as event websites, email marketing, and post-event surveys.
Ratings and reviews as of March 2018: 3.9 with 30 reviews
"Cvent is a good system in terms of event management as it allows lots of customization and flexibility. Its pricing is in the middle end, more expensive than Eventbrite, but still reasonable."
Pros:
Multiple options to fit your needs and budget
Conference-focused
Multi-days
Has a mobile app for registration
Discounts and early bird ticketing options
Social media features
On-site help including personnel and technology
Support offerings
Cons:
Not Lightning ready
No donation processing
Expensive per registrant
Limited integration
Click & Pledge
This app is great for organizations who are doing a lot of different types of events and fundraising and who want all their functionality under one house. Functionality includes peer-to-peer fundraising, online donation processing, and e-commerce integrations.
It's very modular, meaning you can add on a lot of the features out-of-the-box. Click & Pledge support will even set up the app for you, however, they won't customize. Your organization will need to maintain this app, so you will want to consider who you have internally for technical support.
This option is one of the cheapest because it has no recurring cost, only transaction fees after setup. Be aware that the app can be expensive to customize and maintain as it typically requires someone with developer skills to enhance the standard configuration.
Click & Pledge's AppExchange page
Ratings and reviews as of March 2018: 4.7 rating with 18 reviews
"I've used this app for a few events at this point, and it's great!... It takes a little time when you set up your event, but saves SO MUCH data entry in the end."
Pros:
Affordable
Modules available with fundraising options including donation processing
Strong integration as it is built on the Salesforce platform
Cons:
Support availability is limited unless you pay extra
Technical to manage, best for technical users
OneCause
Having just changed their name from BidPal to OneCause, this app is moving upstream to become a total fundraising option. This app works well for organizations running auctions and who are in need of one time and recurring donations, seating charts and tabling, and onsite event help. However, all of this functionality can become expensive.
Ratings and reviews as of March 2018: There is no rating and 0 reviews as this app has been overhauled along with the new name.
Pros:
One time and recurring donations
Seating charts and tabling
Mobile bidding and auction software
Has a mobile app
Text to donate feature
Onsite support for personnel and technology
Cons:
The integration is new and currently limited, this is likely to change in the future
Soapbox Events
Deeply embedded in the nonprofit community, PICnet offers several apps under the name Soapbox Engage, including one for Events. The team who leads this company is responsible for the NPSP Day events, which helps keep them grounded in the everyday struggles our clients face and keeps their products up to date.
Soapbox Event's AppExchange page
Ratings and reviews as of March 2019: There is a 5.0 rating and 1 review.
Pros:
Multiple integrations with payment processors
Great support
Strong nonprofit focus
Free trial
Cons:
Hard to find reviews and information from customers
In the land of few options
As you can see, comprehensive event management apps are few and far between unless you have deep pockets. Many times we recommend a custom integration or suite of solutions to meet an organization's needs and budget or make peace with limited functionality. If you're looking for event management solutions and feel you need some extra help finding what works for your organization, let's chat.