How to Pick an Events Management Solution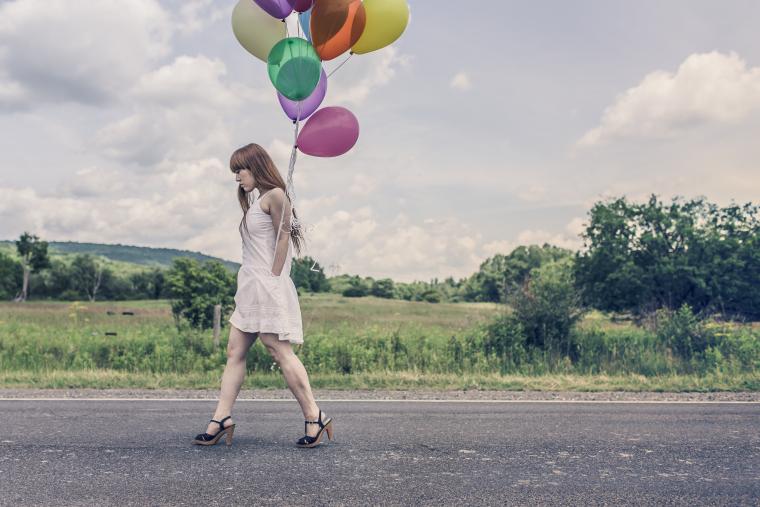 Events can be one of the best lead generation tools at a nonprofit or small business marketer's disposal: you get a roomful of people having a good time together and learning about your company, and chances are good they'll remember you. At Idealist Consulting, we just ran three events in the short span of two weeks and are gearing up for our annual Engagement Party at Dreamforce. As a small marketing team, it's critical for us to know exactly what to expect from ticketing, fees, and communication of our chosen solution. But it's just not as easy as it seems.
Event management has long been one of the trickier solutions to integrate with Salesforce, due to challenges like people using different email addresses, registering colleagues, and ticketing fees. In this post we'll explore how to think about events management and Salesforce before, during, and after your event.
Step 1: Do your homework
Before you sign on to a new events management solution you should be able to answer the following questions:
Are you doing paid or unpaid events (are you charging for tickets?)

Are you ready to pay a fee by ticket to the solution vendor or pay a blanket fee for using the solution? Typically, paying fees by ticket is less of a financial burden since you're only paying when you have events. But if you're an event-driven company (for example if you manage an annual conference), paying a blanket fee may make more sense. Solutions like Eventbrite offer a third option where you can pass the fee on to your constituents, but we don't recommend this path.

Do you have a realistic view of your internal resources? Some solutions require customization which may necessitate additional support fees or help from a consulting partner.

Do you need the capacity to multi-order? This is when someone orders multiple tickets on the behalf of other people. Some solution integrations do not recognize these as unique registrations.

Is there an app already on the AppExchange? How old is it, and how are the reviews? This app is what will let you (or your trusted consulting partner) integrate your events solution with Salesforce.

Is it mobile ready? Do you need an additional special app for check-in? (for example, Eventbrite has an app that handles check-in only)
Step 2: Consider integration requirements
Most clients we work with want to integrate their events management solution with their CRM because you will have more flexibility managing event communications through your mass email solution (which is already integrated with Salesforce, right?). Let's break down some of the reasons for this:
It will let you segment communication with new vs. old contacts: you want to know if a hot prospect or major donor will be there, and you want to be able to see how many new leads come out of the event. You have to have CRM integration in order to see this.

Event solution emails aren't pretty: Solutions like Eventbrite have built-in emails that you can use for last-minute reminders and other pre and post-event communication, but it is better to use your mass email solution in combination with a Salesforce campaign to keep design consistency with your brand and get better visibility into clicks, opens, and RSVPs.

Additional upsell opportunities: whether you have an additional event and want to recommend a request for donations or have a certificate to give attendees, this will all be easier to manage through your CRM email solution.
If you read nothing else in this post, read this: All integrations are not created equal; some are much deeper than others. Investigate whether your integration connects with all standard objects in Salesforce, whether it can include custom objects, or whether it's basic and just creates a new lead/contact for every single event registrant.
Don't try this alone: You should work with a consultant to integrate your events management tool with Salesforce. We recently started using the new Eventbrite Sync internally at Idealist Consulting and ran into a number of issues around when the system creates new leads/contacts and how it connects to campaigns (Note: as of August 2018 Eventbrite Sync is no longer supported). If you have a savvy Salesforce admin on staff they may be able to work through this, but it is likely worth hiring an experienced consultant who could set this up for you in several hours.
Step 3: Consider the three tiers of options
Once you've done your homework and considered your integration needs, you're ready to pick a solution. Here is an excellent crowd-sourced doc shared through the Salesforce Foundation Power of Us Hub that will give you details on the most common solutions. They fit into three tiers.
Options: Consider these 3 tiers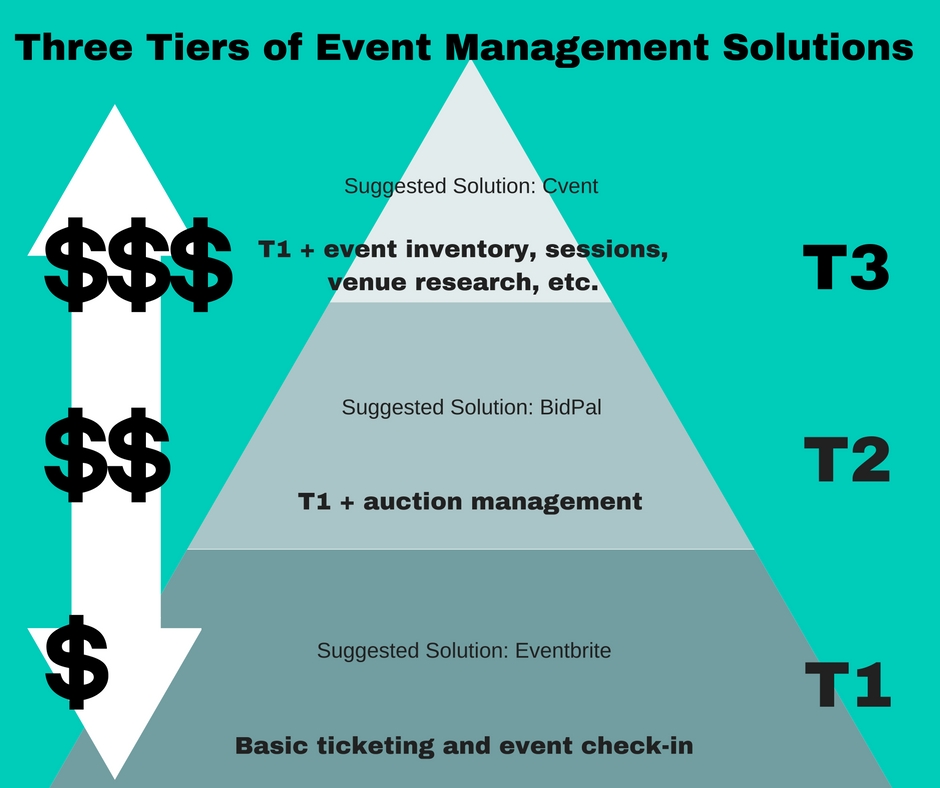 Eventbrite: basic: ticketing and check-in: works fine for simple events
BidPal: medium: if you want auction and table management, as well as mobile bidding, this gives a more holistic approach
Cvent: complex: facilitates ticketing plus event inventory like booth management, badges, sessions, and event venue research.
*the majority of companies and organizations can be managed by a tier-one solution like Eventbrite.
Increases between each tier requires more internal resources to facilitate the solution. Eventbrite requires roughly ¼ of an average employee's attention and time, BidPal requires ½ of one person, and Cvent requires 1-2 people to be fully dedicated.
Step 4: Set yourself up for success
Once you have your events management solution in place, make sure you have someone who is watching out for these two critical elements. Often organizations give one "Events Manager" both logistical and communications-related tasks, but we have found it very helpful internally at Idealist Consulting to separate these tasks. Doing venue research just isn't the same skillset as writing compelling event copy; don't lump them together (and please don't ever give both to an inexperienced intern!).
A dedicated person who is marketing the event (ticketing, signage, branding, sponsorship, speakers, and email/social promotion before, during and after the event)

A dedicated person who is facilitating the event (point person for all venue logistics, budget, may assist with event check-in)
The bottom line: it's not easy, but doesn't have to be a thorn in your side
The architecture of how an event solution is designed does not innately connect with a CRM, so it is trickier to integrate than most people expect. Check out our blog post on CRM and event management integrations. Connect with us to discuss how we can help.