How to use Pardot with a team of one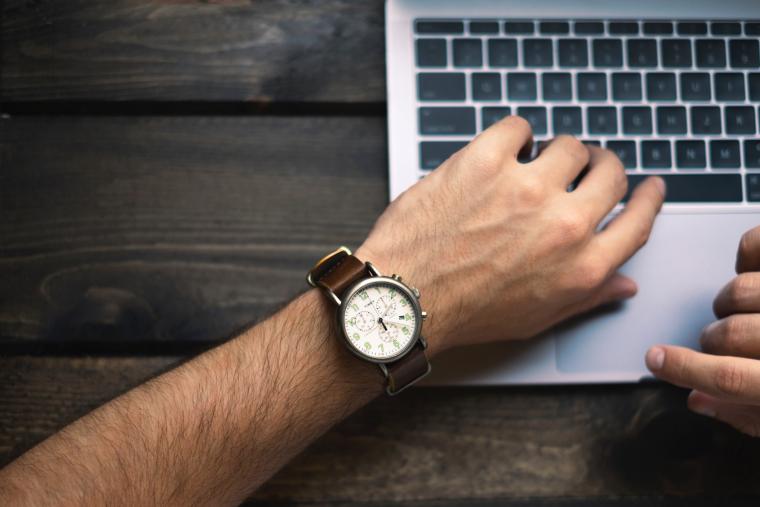 We created a newsletter to help Pardot users expand their knowledge on (and love for) Pardot. Sign up for your dose of marketing automation goodness here.
Before working with Idealist Consulting, I helped small to medium businesses overhaul their marketing departments and create lean, metrics-driven campaigns that spoke to their audiences while increasing return on investment. Working as a team of one meant I wore many hats. I learned my time spent crafting or analyzing my marketing efforts was incredibly valuable.
Now, as a daily (almost hourly) Pardot user, I am reminded of how valuable my time spent in the tool is. Pardot makes it easy to dive into a prospect's record, an email's performance or a landing page's conversions. But diving into those data points could be a waste of my time if I have other high priority tasks at hand and I'm not clear on my goals.
When you're working solo in Pardot, you need to use your time wisely and get clear on what to look for. This article will outline how to work in Pardot with lean resources while you wear all the marketing-related hats.
What if we're a team of none?
For businesses, you might not be ready for Pardot if you do not have a marketer dedicated to it. This doesn't mean you can't try. But you'll get the most value from Pardot when you have someone who will be responsible for its use.
For nonprofits, there might need to be a shift in thinking. While you might not have someone on staff that has "marketing" in their title, that doesn't mean you do not have a marketer on staff. Your development, membership, and communications staff can and should own your use of Pardot. They are, after all, the front lines of crafting content and engaging with your donors and audiences. They are your marketing staff. Find someone excited about tinkering with data and content, and see if they are up for owning your Pardot use.
Using Pardot as a team of one
The following steps will help you manage and use Pardot as a team of one. However, I cannot take full credit for all of these steps. I had the pleasure of attending a session around this topic at Dreamforce this year.
In the many conversations I've had with scrappy marketing teams, the topic of how and when to use Pardot with a team of one, or few, comes up frequently. What's below is a mix of Pardot's advice and my own for using Pardot as a team of one.
Know your goals
First of all, you should have a consultant help you implement the tool so you can follow best practices and save time. Scoring, grading, and many of Pardot's tools require knowledge around the tool to set up. While you could do this alone, it's likely not worth all the time you'd spend Googling and second-guessing yourself.
But implementing the platform is just the first step to Pardot. Once your consultant has got you up and running, it's time for you to own the tool. Keeping these two points at the top of your mind will help you tremendously.
Be clear on why you chose to use Pardot. What drove you to adopt the tool? Was it Engagement Studio or the sync with Salesforce? Make sure you're clear why you wanted to upgrade to Pardot and what your marketing goals are before you jump in. Knowing this will help you focus on learning and using what you're excited about, before taking on other parts of the tool.
Define simple KPIs. These key performance indicators will be different for every organization. One marketer might value conversions over downloads, and vice versa. Choose a small set of KPIs that will help you achieve your goals and your organization's goals. For a list of top KPIs, you can measure in Pardot, check out this list of 14.
Get organized
To make the most of your time in the tool you need to spend some time thoughtfully planning out how you will find and save your assets.
Start off on the right foot by using folders and best practices for naming conventions. An easy way to stay organized with all your assets is to use a date at the start of your naming. An example of this would be to include the year in all titles, such as 2018_Q1_Webinars.
Keep track of your content. If you have a plethora of blog posts or an assortment of webinars, you'll want to have some way of easily finding them. This could be in a separate document, outside of Pardot. By knowing what you have at your disposal, you can easily create and add those resources to your Pardot emails, landing pages, and social messages.
Choose helpful tools
Pardot has a lot to offer in the way of automation. Whether you want to automatically send a resource after someone fills out a form or you want to immediately have someone added to a list based on their profile or behavior, Pardot can help. The tricky part is knowing which tool to use and when. Here's our cheat sheet of when to use some of the more common features.
Completion actions automate marketing tasks, like assigning a user or sending an email. You add them to forms, form handlers, files, custom redirects, emails, and page actions so that a task can be performed after a prospect opens an email or fills out a form. Keep this completion actions list bookmarked when determining how to use completion actions.
Automation rules set criteria for prospects and then take an action anytime someone matches this criteria. Automation rules are similar to completion actions but do not require the prospects to have taken action first. Here's a handy automation rules list to keep bookmarked.
Dynamic lists automatically add prospects to a list based on rules you set. This can save you time when you want to keep track of certain audiences, such as all prospects with a score above 100 and a grade of A.
Engagement studio allows you to create and automate paths for your prospects. If you want to send a series of follow up emails to anyone who downloads a resource from your organization, this is where you create and track this series.
Confused on what automation tool to use? Save time and use this helpful Salesforce training document.
Start simple
The KISS principle explains it best- Keep It Simple Stupid. Whether you are building your first engagement program or dynamic list, you want to make sure it's simple and straightforward.
If you want to create an Engagement program in Engagement Studio, start with the basics of what you want to send and to whom. Force yourself to map it out on a whiteboard before setting it up in Pardot. Keep your emails short and your rules uncomplicated. Once you've created your first Engagement program and it's been running for a few months, then you can begin to get a sense of how to better tailor it to your audience and add more steps to it.
Automate your social scheduling
Pardot's social tools allow you to connect your social media profiles and schedule posts from within Pardot. This is a time saver!
You can easily draw upon images or marketing content you have already created to drive traffic back to your website, landing pages, or forms. Plus, you can track how your visitors and prospects are engaging with your social media content to better build out their profiles. This will help you determine what your audience is engaging with while keeping you in the tool.
However, there are some limitations with the tool. It provides a basic scheduling tool but does not come with listening or notification tools (i.e. you cannot see replies or respond to your audience from Pardot). But if you're just looking to preschedule tweets or LinkedIn posts and see which of your prospects are engaging (liking or retweeting) then this tool will be a great help.
Schedule time to learn
Whenever I find a great marketing automation resource, I'll sign up for it and then save it immediately so I can review it later. Setting aside time once a month to review the resources I've saved helps keep me focused in the moment, without FOMO. I highly recommend trying this tactic.
Pardot keeps an up to date events and webinars schedule. If you can't make it to their webinars, sign up to receive the recording. You can also browse their recordings and resource library here.
Not a webinar person? Try blogs. Check out the Pardot blog for the latest updates. Additionally, there are a lot of great blog by consultants. Besides our own blog, I suggest checking out Andrea Tarrell's The Spot for Pardot and Jenna Molby's blog. The HubSpot blog is also great for approachable marketing automation tips that can be applied to any program.
Find Pardot support
You're not alone. There are many marketers who use Pardot as a team of one. And many of them are spread thin. By engaging with Pardot experts and the community you can find help when you need it or browse the community when you have time.
Sign up for Pardot Office Hours for when you have a more demanding issue. Daily GoToMeeting calls allow you to ask questions and get answers. Words of advice- show up on-time so you get help faster. If they can't help you, you can always open a support ticket.
Join the Pardot B2B Marketing Automation community. This is where you should go if you have a question and want to engage other Pardot users. I can tell you from experience there are some very knowledgeable and kind users there.
See if your city has a Pardot User Group. Nothing beats in-person for commiserating or just talking through your latest marketing campaign with users who aren't afraid to talk turkey. Disclaimer: Idealist Consulting hosts the Portland group so we are biased on this topic, but they really are great.
Finally, and this one is taken directly from the Dreamforce presentation: delegate, delegate, delegate. Pardot support offers basic admin support for things like configuration services, deleting users, updating fields and records. If you're really stretched for time, reach out to the Pardot Configuration Services team.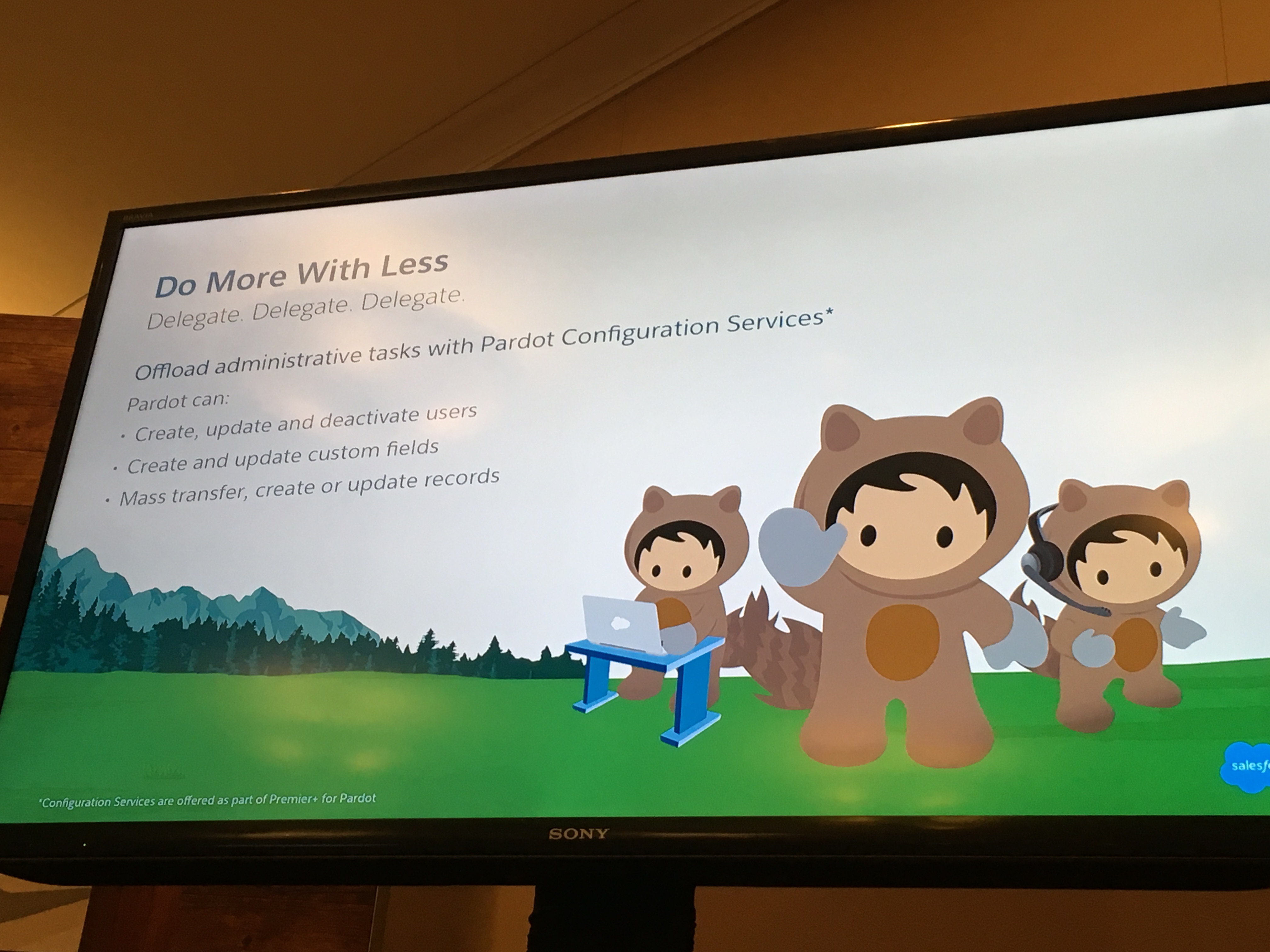 Using and managing Pardot as a team of one can be hard. But it can work! Just remember to focus on your high-level goals, keep your automation simple, and lean on your resources for support.
Once you've got the hang of it you can begin to really dig in and map your journeys. For example, it took us a full year of using the tool to start creating more complex Engagements and layouts. But we did this only after we knew what metrics to track and measure.
If you feel you're ready to dig into Pardot and your metrics more, take some time to read our article on how to find the right marketing metrics for your organization.
Learn how to find right Pardot metrics