Inside Our Values: Stay Human
This spring, I had the pleasure of seeing Riva-Melissa Tez speak at this years Elevating Impact Summit. She is a savvy, charismatic investor, and when she took a loving jab at the plethora of tech start ups and lifestyle apps all trying to "make the world a better place" through technology - it struck a chord. 
Are these apps really solutions to real problems? Is ordering take out for the whole team in a more efficient way, a problem that needs to be solved? And, furthermore, are the humans using this solution actually experiencing an improved quality of life? Is their job easier or more efficient? Or are we, humans, actually adapting to these solutions and in our new found efficiency, are we inadvertently losing some of the very valuable face-to-face time?
At Idealist Consulting we care about the human-to-human interactions. 
Even as a solution forward consulting firm, our journey starts with understanding the goal of the humans using these solutions. That's why we are committed to staying human.
We see technology as part of the journey, not the final destination. We know that any solution is only as effective as the human relationships it supports. 
What staying human means to us
As a team, we choose to work together, in a house. Our office is actually a converted three story house on Portland's historic Mississippi Ave.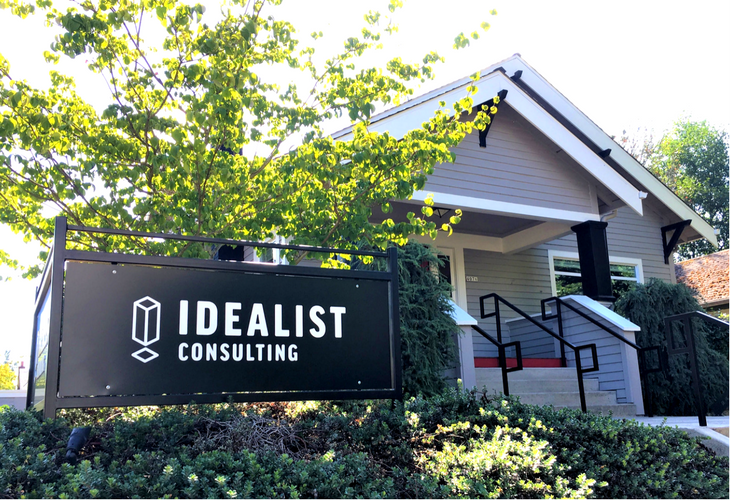 While Idealist Consulting offers flexible work weeks, work from home options, and generous PTO, most of the Portland-based employees are in the office daily. Despite all of our project management platforms and solutions, we still see an inherent value in closing our laptops, looking each other in the eyes, and holding face to face meetings. 
If you were to visit our house, you'd find solution analysts sitting around the kitchen table, CRM consultants whiteboarding in the living room, and our marketing team strategizing in the back yard.
We take our 'B Corporation Best for Workers' award seriously and continue to offer robust, employer-sponsored benefits and a supportive learning culture. We see our company's success as a sum of the individuals who work with us.
What our commitment to staying human means for you
We want to work with you. 
We listen first. Collecting detailed user stories to help us select and architect the best possible tech solutions tailored to your human needs. Then, along the way, staying human means, picking up the phone, applauding accomplishments, and being patient when the screen sharing platform has an occasional issue. It also means forgiveness when user acceptance testing takes longer than planned. It means recognizing that though we are engaged in technology, there are live humans building and using the product and that while human error is inevitable, it doesn't have to be detrimental to the project.
We know that you are more than your professional role within an organization, and your commitments go beyond its stated mission. We know that you are balancing a whole life on the other end of that phone, email, or CRM interface. 
And we want to support you and your team as you navigate the changes, both good and challenging, that embracing new technology will bring.
We'd love to hear your feedback on our 'Stay Human' values. Comment below to tell us your thoughts.