Migrating to Lightning for your business
Raise your hand if your small business has migrated or is migrating to Lightning. That's what we thought.
If you're like most small and medium business (SMB) Salesforce admins, you're considering how you're going to handle a migration to Lightning. After all, you wear many hats and finding the time to migrate to the Lightning Experience can be daunting.
You might have fallen into your role, what can be lovingly called an "accidental admin". Or you might just be the person who doesn't mind being the go-to for Salesforce. But either way, it's most likely not the only thing you manage within your company. And as the defacto Salesforce admin and talk of Lightning growing every day, you're probably fielding a lot of questions from users around migrating to Lightning, like this one.
How long can I use Salesforce Classic?  
Since its rollout in 2015, Lightning has been a major topic of discussion in Salesforce circles, but for SMBs we rarely hear of a full Lightning rollout. Many times, we are asked "when do I need to start migrating to Lightning," or "what if I don't migrate to Lightning?" The truth is you'll be all but forced to make the move, even if the end date of Classic has not been announced.
A good example is what's currently happening with Salesforce's smartphone app. Salesforce Classic Mobile App is being retired in December 2017 and in its place will be the Lightning version of the Salesforce app, Salesforce1. The Classic app will be removed from the app store and users will need to migrate. So take heed, if your organization uses Salesforce Classic in a browser and the Classic mobile app, adopting Lightning will need to happen sooner rather than later.
Gather your resources for migrating to Lightning
One of the biggest challenges for admins considering Lightning is the lack of knowledge around migrating and the updated platform. But if you're a typical small business admin, you have experience with hands-on learning. There are many resources across the Salesforce universe to help small businesses just like yours get started.
Find your allies
Along with studying and strategizing, you should begin by identifying who can help you champion this effort. It's easiest to start by identifying the early (and eager) adopters of the Lightning Experience. If you do not have anyone who has switched to Lightning Experience, identify your super users. They can help you understand not only how to sell Lightning to other users but they can also assist with training hesitant users once the move has been made.
Take stock of your setup
Next, you'll want to determine the features your small business is using and which of them might not be supported within Lightning. Below are some items to consider when conducting this analysis:
Custom javascript buttons- not supported currently, but there are workarounds.

Visualforce Pages- these will need to be updated.

AppExchange Apps- are the ones you use Lightning ready?
Review your current processes
Now you'll want to dive into your business processes. Reviewing your small business documentation can help you determine what might be overlooked. If you don't have business processes documented, then this might be a good time to start. A common phrase I hear in our office is "any documentation is better than nothing".
Start with major processes, like how your company handles new leads, and walk through the steps with whoever owns the process within your business. Make sure this user shows you the steps in Salesforce so you can take accurate notes.
Set up some User Acceptance Testing
Retraining is going to be a big component of this migration. With such an updated interface, users will be confused at first and will need some guidance. This is where you can start user acceptance testing. Refer back to your group of early adopters and super users for help testing the new interface. Ask them to identify a few hesitant users who would also benefit from some guided testing.
By performing user acceptance testing you can help work out the kinks in the system, review your major processes, and get hesitant users invested and knowledgeable about the new system. If you're nervous about training, we suggest reading this article on training tactics to help you strategize.
Time for (re)training
No matter the skill level, there will be a need for some training and support. Refer back to some of the presenting tips in the Enablement Kit above, and review what user adoption tactics have worked in your business before. There's also a handy Lightning Experience Rollout Trailhead you can take to help you make the rollout out smooth as possible. And many more Trailheads you can send your users to as well.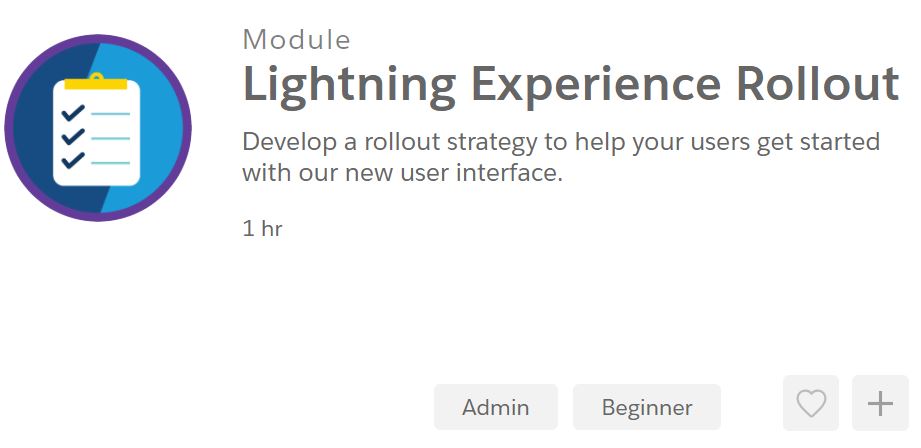 And just know, there will be hesitancy. But just like with an update to a social media platform, users will begin to accept the new interface after they have spent some time alone working in it. 
Don't forget to pat yourself on the back once you've made it through migrating to Lightning. Your hard work and guidance have moved your business forward. You can now help your business better perform and track their performance, plus you can take advantage of all the cool new features of Lightning. Good job!
With Dreamforce around the corner, we're seeing daily articles about Lightning. And you can bet Salesforce their status quo of releasing more and more Lightning features while slowing down the work on Classic. If you need help making the move, we're here to help you strategize and make Lightning a reality for your business.