Two ways nonprofits can use Conga QuickMerge to streamline mailings and reporting
Today's post comes to us from Robert Boyd, Product and Partner Marketing Specialist at Conga.
Nonprofits have tight budgets.  That's just reality.  In a perfect world, generous IT budgets would fall out of the sky and preferably into the laps of organizations that strive to do some good in this world.  I'll keep my hopes alive, but in the meantime, I'm thrilled to have the opportunity to introduce a completely free tool that helps organize and streamline document generation solutions to save Salesforce administrators and users a heck of a lot of time.
Introducing Conga QuickMerge
Conga QuickMerge is an optional, free add-on to Conga Composer that helps automate Composer and Mail Merge solutions by expanding the scope of how they can be launched.  In short, Conga QuickMerge serves two awesome purposes:
Automating mass mailings
Enabling flexible organization-wide reporting
In my last guest post, I described how to create tax receipts, board reports and more from Salesforce using Conga Composer.  I encourage you to check it out if you're curious about how to transform old-school methods of creating and delivering documents from Salesforce into efficient, user-friendly solutions that save your entire organization valuable time and money.  If and when you decide to take the leap and try out Conga Composer, adding Conga QuickMerge is a no-brainer.  First of all, it's free (hooray free!) but from a functional perspective, it allows you to keep things organized as you scale your document generation and reporting use cases within Salesforce.
Let's discuss those two awesome ways to use Conga QuickMerge at greater length:
Automating Mass Mailings
Conga Mail Merge is great for printed mass mailings, but the standard user experience involves a 7-step wizard that allows you to select your data source, your desired templates and generally customize the behavior of your solution on the fly.  This is great when your requirements are variable, but it's much more common to have a mail merge process that's recurring and largely the same every time you run it.  For example, batches of donation receipts that are created at the end of each month using the same document template.  In those situations, bypassing the 7-step wizard is much more efficient than making the same selections every time, and that's exactly what Conga QuickMerge allows you to do.
Conga QuickMerge is a custom object within Salesforce, and individual QuickMerge records can be created to represent entire Conga Mail Merge solutions.  The tool allows you to predefine virtually every setting of Conga Mail Merge such as what document template to use, what Salesforce report to use as a data source and what kinds of activities to log.

There are quite a few fields on the page layout to customize a variety of settings, but see that handy little 'Launch' button in the upper-right corner of the record?  That's the key to streamlining the Conga Mail Merge process.  With all your settings predefined, you can bypass the Conga Mail Merge wizard to skip right to the end and quickly create your documents, labels and envelopes in just a few clicks.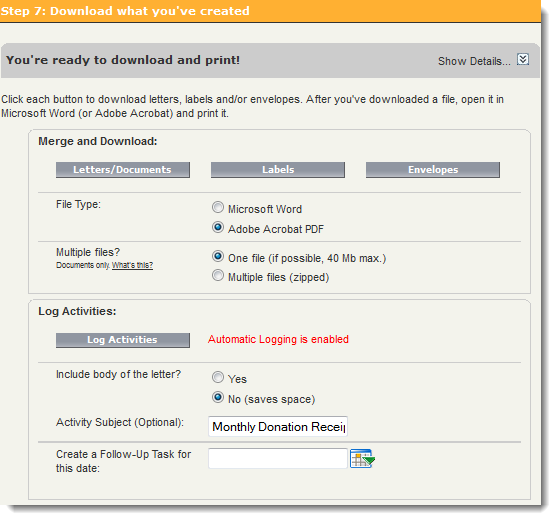 Flexible Organization-Wide Reporting
We just discussed how Conga QuickMerge can streamline the process of using Conga Mail Merge, but it can also be used with Conga Composer when you're looking to create just one output file, rather than hundreds.  This makes the most sense in the context of organization-wide reporting where you're gathering data about lots of different Salesforce records to populate a single document, spreadsheet or presentation.  For example, an Excel workbook that lists and groups donations from individuals, donations from businesses and institutional grants by calendar month.
Conga Composer is traditionally launched from custom buttons on Salesforce records, but for this use case, it doesn't really make sense to launch the solution from one particular Donation record (or even one particular object).  The whole purpose is to include data about lots of different types of donations, so we can use Conga QuickMerge as a launchpad for this organization-wide reporting solution.
In this case, all we need to predefine is a document template and what data sources (typically Salesforce reports) will be used to populate that template.  Sticking with our previous example of an Excel workbook for tracking various types of giving history, I might whip up a few Salesforce reports that show the revenue generated from individuals, businesses and grants and specify an Excel template into which we'll merge all that data.

In this case, clicking the familiar 'Launch' button will run Conga Composer, rather than Conga Mail Merge, so that I can easily merge my Excel workbook with data from a few different Salesforce reports.
And there you have it – an introduction to Conga QuickMerge, the free launchpad for Conga Composer and Conga Mail Merge solutions.  You can find out more about Conga QuickMerge here, but if you've made it this far through the post and are still wondering what this whole Conga thing is all about, you can learn about us at www.congamerge.com.
Page Images