What Makes the Nonprofit Starter Pack 3.0 Great and Why You Should Care
The Nonprofit Salesforce community has been buzzing about the latest release of the Nonprofit Starter Pack and for good reason, this release has a number of improvements that significantly improve the user and constituent experience. Here are seven of our favorite things.
1) Updates are easier to facilitate and faster to deploy.
In other words, your staff can be more efficient.

2) More ways to facilitate householding.
Salesforce was originally built as a Business-to-Business (B2B) system and traditionally has needed significant customization to work for nonprofits. This latest release does a better job than ever of reflecting nonprofit business process - this means less customization (read, less money) for you. The biggest example of this is in using the Household Account Model as default. Here's a glimpse of what it looks like (re-published with permission from the Hub) and you can read this post for more info on Account Models.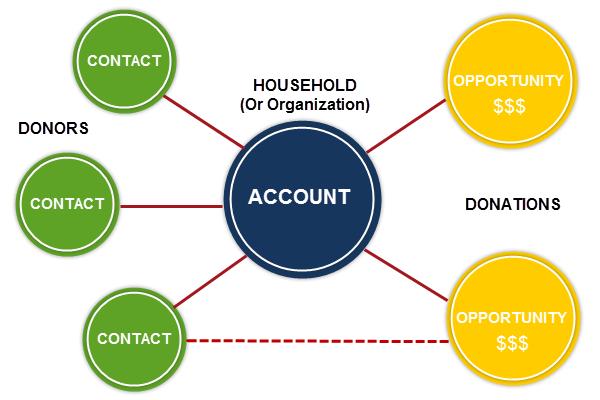 3) Ability to connect with more third party apps.
More functionality options = more features.
4) Simpler interface.
This makes for easier for user adoption, and more efficient staff.
5) Settings have better explanations.
This release comes with better documentation than ever before. This means there will be a faster learning curve for admins which leads to (are you getting tired of hearing this yet?) more efficient staff.
6) Easier to build out and map custom code.
Developers love NPSP 3.0 because it is easier than ever to build out custom code, which means you can keep your deployment costs down.
7) Ability to create seasonal addresses.
Seasonal addresses have traditionally created a lot of headaches for development staff. This release gives you more options for better Contact Relationship Management, which leads to happier constituents.
Check out our earlier post on Six Great Hub Resources on the NPSP to learn more.
Page Images