Your Ultimate Dreamforce Bucket List
If you're as amped up about Dreamforce as we are, you might be getting overwhelmed with all the information on what to do and where to go. The 4 day conference will be going strong every day from November 6th through the 9th in downtown San Francisco. Even though you might have an idea about the sessions and parties to attend, you're probably not sure where to start.
And with the much-anticipated released of the Dreamforce session agenda planner, it's hard to really create a plan just yet. So we're going to help you sift through all the Salesforce blog posts, to find the good stuff you can plan for now. Let us be your guide.
First and foremost, bring comfortable walking shoes. Dreamforce covers a lot of ground in downtown San Francisco, centering around the Moscone Center, and spreading across the Marriott Marquis, InterContinental, the Palace Hotel, Hilton Union Square, the Park Central, and the Westin St. Francisco. With plenty of pedicabs, trolleys, and Ubers around you'll be able to get anywhere quickly, but be conscious of where you're going next so you have enough time to get there.
---
Full conference tickets are sold out! No problem- Cirrus Insight to the rescue! Sign up to win a full pass, a hotel stay, plus gift cards to use around the city here. Better hurry- the contest ends October 19, 2017.
---
Get inspired
The lineup for this year's conference is filled with inspirational voices. If you're a fan of TED Talks you'll enjoy this year's speakers. Notable figures like Michelle Obama, Will.i.am, and Sylvia Acevedo, to name a few, will grace the Dreamforce stage.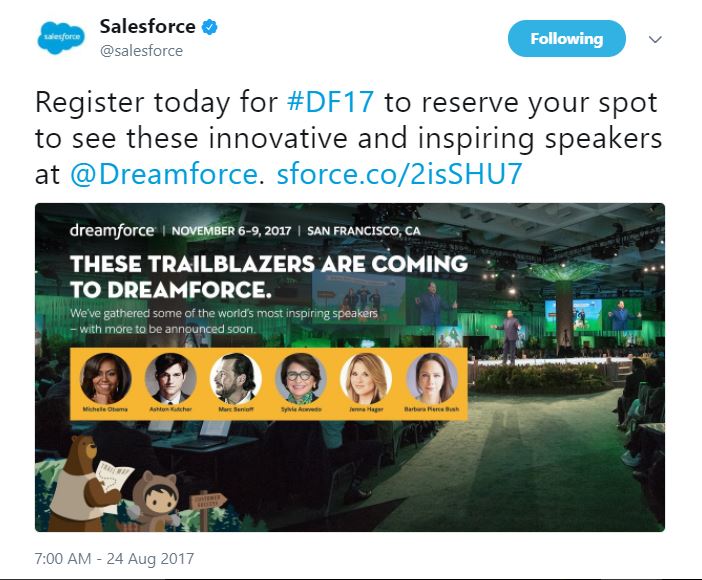 Big name speakers aren't the only ones who will take the stage during Dreamforce. If you're a fan of Shark Tank, you'll want to check out Dreampitch. Competing for $250,000, worthy startups can pitch their companies to legendary investors and potential customers. It's fast becoming one of the annual favorites for attendees. Check it out Tuesday, November 7th from 4:30 pm to 5:30 pm PST.
Listen up
Who can forget about the concert!? The concert, aptly named Dreamfest, had headliner U2 last year. While there has been no announced headliner for this year yet, there are many speculations (rumors are it could be Adele, Lady Gaga, Foo Fighters, or even the Rolling Stones.) However, we do know the rest of the details for this year's big event. Mark your calendars for Tuesday, November 7th, at the nearby AT&T Park.
UPDATE: Dreamfest performers have been announced! Get ready to rock out with Alicia Keys and Lenny Kravitz.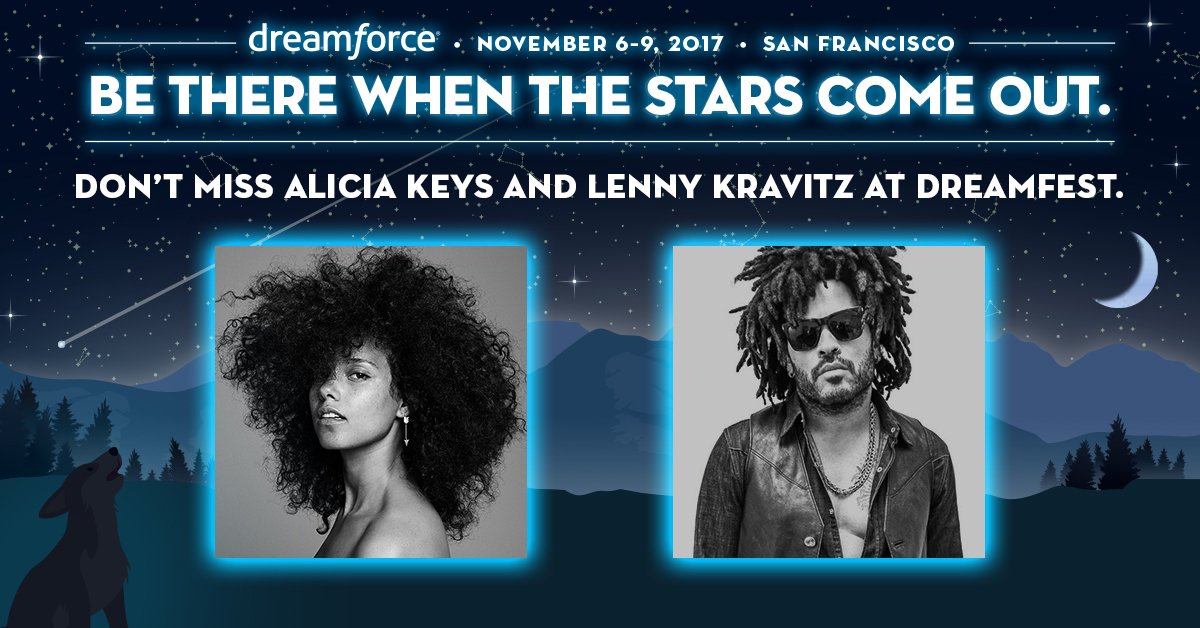 Give back (while learning)
Looking to spend some time learning outside of a session while you're at Dreamforce? The Quest is a campus-wide effort for Dreamforce attendees to take Trailheads while at the conference. With every completed Trailhead, Salesforce will be donating money to three organizations, all working to empower the next generation, Girl Scouts, College Track, and Upwardly Global. So if you're in need of some time outside of listening to speakers, grab a coffee and find one of the many interactive Quest towers across campus.
Win some cash/prizes
$10,000+ in prizes! That's what we're talking about this year with the #AppyDF street team. All you have to do is find and wear an AppExchange scarf,  available at lodges throughout Dreamforce. If you're discovered by one of the 20 Salesforce MVPs and AppExchange All Stars on the street team, you could be handed a $100 AMEX gift card on the spot! For an additional chance to win a gift card you can share what #AppyDF means to you on Twitter.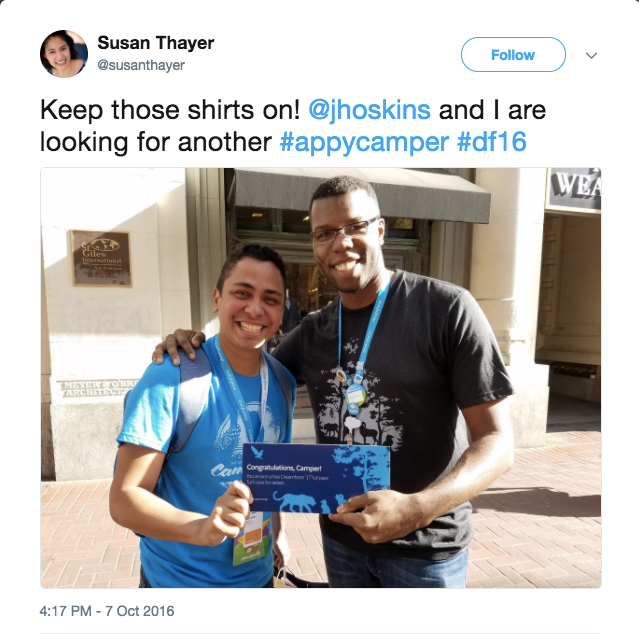 Test drive products
Visit the Campground to experience the latest Salesforce products and innovative partner offerings. Last year, we visited a booth that used Salesforce technology to help you shop for clothes. Without having to actually try anything on, you could see how the clothes would look and fit on your own body! This year there is lots of talk around AI. Including a special retail showcase featuring how the fastest sports company in the world, Adidas, connects with customers faster with Salesforce across marketing, digital commerce, stores, and service. If you want to really be amazed, check out what the future will look like in the Customer Success Expo area of the Campground.
Get the Lightning experience
Lightning is quickly becoming the status quo. If your organization has yet to migrate to the new interface, Dreamforce is the place to start your planning- with expert help. Lightning Ambassadors will be available within Lightning Launchpad on the 2nd floor of Moscone West to help you plan your move. You'll also find experts to help you at a Lightning Consultation station in the Service Cloud Lodge area.
Get certified!
We're planning to do it and so should you! You can take several immersive training courses or sign up for a certification exam (at half the regular price!) And with a party every night you'll be able to celebrate your new certification in style!
Plan for this at Dreamforce- no matter what
Me time. You'll need it to stay sane during Dreamforce. With so much going on all day and night, it can make your brain go into overload. Remember to take some time to yourself and stay hydrated. There will be water stations all over the campus, so bring a reusable water bottle (or grab one of the many that will be offered to you as swag).
Are you feeling more prepared? We are. And if you need an extra boost- just take the Dreamforce Trailhead on planning for Dreamforce. At only 2 hours and 40 minutes, this Trailhead can be fit into your schedule over the next month leading up to Dreamforce.

Want more help? You can find a long list of Dreamforce related blog posts from Apttus here and the ultimate Dreamforce party list courtesy of WebMerge here. Plus, we're offering personalized recommendations to help you navigate Dreamforce. Sign up below and we'll reach out to help you make the most of your time in San Francisco this November.