3 Ways a Smart Marketing Cloud Account Engagement Strategy Can Help You Weather COVID-19
In the past week alone, I estimate that I have unsubscribed from about 15 emails. My co-workers all say the same thing. It's almost comical how brands that we have not heard from in years are suddenly coming out of the woodwork with messages about how they're "here for me," or have the secret that can help me maintain productivity with remote work.
Here's the thing: no one has time for more emails right now. Although there are moments of joy sprinkled in with anxiety, sleep deprivation, and homeschooling while working, I would guess that most of us are not looking for more digital noise to wade through right now.
So what's a marketer to do? We don't want to be annoying, but we want to help our businesses stay relevant and weather this tumultuous time. We can't afford to be forgotten: if we work for a nonprofit, we want to make sure our donors know how we are affected by COVID-19 so that they will think of us when they want to make an impact; if we work for a business, we want to make sure that we are top-of-mind when our clients have money to spend. 
A pure heart will only get you so far
A values-based brand and ethical marketing is essential in today's economy, but it will only get you so far. You also need technology that helps you centralize your communications in one place, and a strategy to help you use that technology effectively.. 
I talk to people every day who bought Marketing Cloud Account Engagement (powered by Pardot) with the best of intentions: they wanted to connect their communication strategy with Salesforce, they wanted to email different audiences in different ways, they wanted to get better reporting on what efforts bring the most ROI. But nine times out of ten, if you ask someone new to Marketing Cloud Account Engagement (MCAE) what they're using it for, they will tell you that they're only sending mass emails. Maybe they have a drip program set up in Engagement Studio. MCAE can be so much more.
3 stories of how a smart MCAE strategy can help
Here are a few ways I have recently helped clients with MCAE strategy that feel particularly relevant right now.
1. Update email preference center to limit frequency
Remember those 15+ emails I said I'd unsubscribed from in the past week? Well, only one of them had the option to update my email preferences instead of unsubscribing altogether. And it was such a good preference center that I've been talking about it a lot: Mercy Corps gave me the option to either pause my emails for one month, or limit frequency moving forward. 
The things I like about this are that:
They made it clear how I could follow through with what I was trying to do when I went to the page (and gave me multiple options to limit the frequency of emails).
They let me limit frequency rather than making me pick between newsletters, event emails, etc. This sounds like a no-brainer, but is actually pretty rare from other email preference centers I have seen.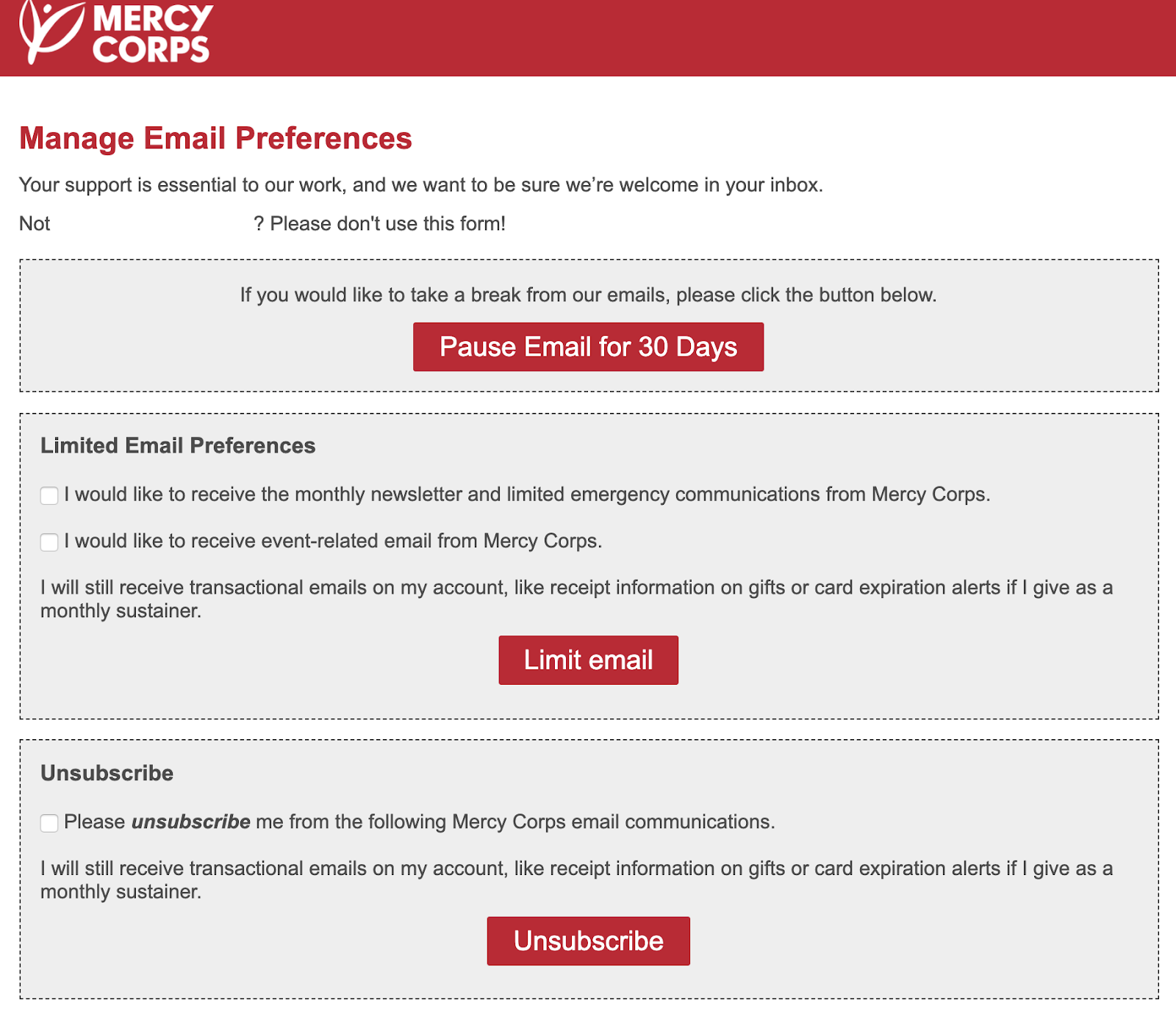 This type of email preference center can be set up in MCAE, but requires some strategic conversations and research first. When I looked at this recently with a client, we took these steps:
Look at current email send frequency and what lists are receiving those emails.
Look at email calendar from past month and next month and classify in groups ranked by importance.
Then, and only then, we could move forward with building out corresponding dynamic public lists in MCAE and setting automation rules to consider suppression.
Side note: this idea about letting your subscribers limit an activity is a trend I have been seeing in other places recently. On a recent webinar I attended about nonprofit trends in the past month, experts recommended giving sustaining donors the option to pause a recurring donation for 3 months instead of cancelling altogether. Your donors might be in a better financial place in several months, and they will almost certainly love you for giving them an option to save some money while not feeling bad about abandoning a cause they care about during tough times. And they will probably remember how considerate you were.
2. Be savvy with your segmentation
A lot of people are drawn initially to MCAE because they are fed up with having to manually upload lists every time they want to send an email. They have used Campaigns in Salesforce to organize people, but there are many manual steps involved in order to double-check that you're following subscriber preferences.
If you do not have dynamic lists set up in MCAE in a way that lets different audiences self-maintain (for example if you get new donors, or new people interested in a specific product), you are not getting your money's worth with your MCAE licenses.
There are lots of cool ways MCAE can help you personalize and nurture different audiences, but it all starts with smart segmentation. 
Pro tip: MCAE has several native connectors that will help you get leads from sources such as GoToWebinar or WebEx directly into MCAE, so that you don't have to worry about duplicates and can start nurturing them right away.
If the 3rd party apps you are using don't have native connectors, you can still consider connecting that data through form handlers, a Zapier connection, or even API integration. A consultant can help you think through these options depending on your use case and make sure CSV imports and manual data reconciliation is a last resort.
3. Make your calls to action count
Now is not the time to send a novel by email. Your subscribers do not have the patience for it. Limit your emails to ONE call to action: donate now, call your senator, sign the pledge, attend the webinar, you get the idea. Make it clear how they can have the impact you want them to have, or get the resource they're looking for. 
 
Conclusion
This is a stressful time for many of us, and it can be challenging to embrace technology change when you are also juggling how to best arrange your family schedule or carve out a quiet place to work. But if you have the proper support, this can also be a time when you might be able to dive deeper into Trailhead modules or internal projects that you haven't been able to in the past. Maybe you traditionally have a heavy spring events season, but with events being canceled left and right you suddenly have a void in your days that you need to fill.
Will this be your time to hunker down and get frustrated by the endless loop of Zoom meetings, or your time to learn something new and help your organization weather this time? I'm not going to say "Idealist Consulting is here for you" because that has become such a cliche. But, our consultants love a good creative brainstorming session.