9 Resources for Learning and Managing Salesforce
Have you seen that meme about how Googling stuff does not make you a doctor?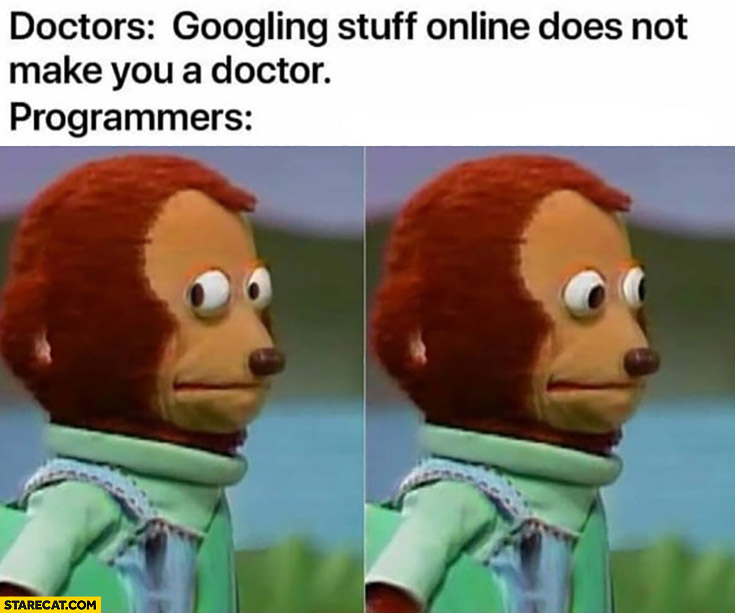 If this meme doesn't do anything for you right now, check back with us after you've been working in Salesforce for a year.
As with programmers, Google is a Salesforce admin's best friend. If you want to know what's possible, if you want to learn how to do something, if you're flat out stuck trying to make something work in Salesforce, the first place to turn is Google.
But it's not the only place. One of the best things about the Salesforce ecosystem is the community. There are a lot of Salesforce users and experts out there who love talking about Salesforce and want to help you get the most out of it.
Here's a list of resources to help you and your users get the most out of Salesforce.
1. Trailhead
Trailhead should be the beginning of both you and your users' Salesforce journey. Trailhead is a free learning platform with thousands of lessons about how to use Salesforce, how to use NPSP, how to administer Salesforce or NPSP, how to build reports and automation, how to leverage Marketing Cloud Account Engagement (powered by Pardot), and much more. You can build Trailmixes out of modules of your choosing to guide your team in its learning, and the whole experience is gamified. (Hello to my fellow Trailhead Rangers out there!)
Like I mentioned, Trailhead is free, even to people who aren't customers yet, so even if you're not yet a Salesforce customer, this is a great place to get a taste for what the platform can do.
2. User Groups
Joining a user group is a must for nonprofit users! Salesforce User Groups are hosted all over the country and are a great way to meet other users with similar experiences, working through similar problems, and trying to achieve similar goals. So, you'll learn a lot of practical knowledge, and network with peers. Best of all, most user groups have gone digital in the past few months, which means you can join user groups anywhere in the world. The Portland Nonprofit User Group is pretty active, always informative, and meets once a month — just saying!
3. Google
Like I said above, Google is your best friend. As a Salesforce admin and MCAE expert, I do a lot of Google searches like "How to connect Slack to Salesforce" or "Salesforce MOD formula operator" or "MCAE field sync behavior Salesforce".
The best things about doing a Google search is that every other resource we mention in this article will appear in Google search and you'll find help at every level. You'll find entry-level Trailhead modules on your search query to Salesforce's technical documentation to forums where other users were facing the same problem. You'll even find step-by-step guides from experts like us.
4. The Salesforce Trailblazer Community
The Trailblazer Community is a portal for Salesforce knowledge and help. Mostly it's kind of like an online help or discussion forum. Without logging in, you can browse past questions to see if your problem has been solved by someone else (these posts pop up when you do a Google search). Or if you log in, you can ask for help and other community members will answer.
5. The Power of Us Hub
Similar to the Salesforce Trailblazer Community, The Power of Us Hub is like an online help form but specifically for Nonprofit and Education Cloud users. You do have to log in to access this resource, but you'll be certain to find information and help that's relevant to nonprofits and specific to NPSP.
6. Salesforce Documentation
Every field, every feature, every process, everything about Salesforce is documented and the documentation is all online and accessible through a Google search. However, there's a lot of documentation — literally tens of thousands of pages of technical notes, and the documentation can be a little technical sometimes. I wouldn't start with reading the documentation, but as you become more familiar with the ins and outs of Salesforce, the documentation will become more and more useful.
7. Salesforce Blogs
The official documentation is sometimes a little dense and not always practical. Instead, many professionals rely on blogs dedicated to Salesforce for guides and product reviews. You're reading one of those blogs right now! But the Idealist Consulting blog isn't the only great Salesforce blog out there — there's also Salesforce Ben (great for Salesforce admins at all levels), Automation Champion (a little more technical), and a lot more. My advice: do a Google search for the topic you're researching and look at the blog posts that pop up on that subject first.
8. Salesforce StackExchange
Salesforce StackExchange is a help forum like Success Community, but not directly led by Salesforce itself. The discussions here are usually a little more technical, but the most important thing to know is that this is a legit source of information. If a Google search pulls up a link to StackExchange, go ahead and see if someone with a similar issue solved the problem.
9. The Salesforce AppExchange
It's all in the name: The Salesforce AppExchange is all about Salesforce apps. You can find pre-built solutions and integrations that can be installed in your Salesforce org. You need to pay for many solutions, but some are free. I would particularly look at apps from Salesforce Labs.
Sleuthing out the answer to a problem is half the fun of being a Salesforce admin. But if you're looking at setting up Salesforce for the first time or considering an overhaul, a consultant could help.