Behind the scenes of our rebrand
For the past year, we have been hard at work crafting a look and feel to the Idealist Consulting brand. We couldn't be prouder to unveil our rebrand today.
As anyone who has worked with us knows, we're a different kind of firm. We are a motley group of long-time techies, nonprofit expats and passionate newcomers who have landed at Idealist Consulting because we want something between the two extremes of nonprofit and corporate work. We found that at Idealist Consulting.
And more and more, we believe it is our people and relationships that set us apart from our competitors, so we wanted to craft our brand around this. 
To approach this rebrand, we engaged with the team at Eighth Rule and they guided us through a process including focus groups, iterations, soul-searching, and ultimately a renewed confidence in who we are. Here's a look behind the scenes of some of the changes you'll see on our new website and trickling through to every branch of our business in the coming months.
Rebrand of our mark
We decided to go big with this project and not only redesign our website but take this opportunity to develop a new logo. Why? Well, for one thing Idealist Consulting has been around for eleven years now, and it was time to refresh our look. But more than that, we wanted a palette and look that felt different when you glance at a page of consulting partners on the AppExchange. Also, we're increasingly thinking of ourselves as a marketing firm in addition to a Salesforce firm (since we do more and more work with marketing automation) and we wanted our mark to reflect this.
As Eighth Rule describes, "This mark has a confident, bold and imaginative voice expressed with an exclamation point and/or a lowercase "i" flipped upside down. The levitating column, casting a shadow below, defies gravity and expectations. A feeling of being solid yet light."
Exactly what we aspire to be. Here's our new mark: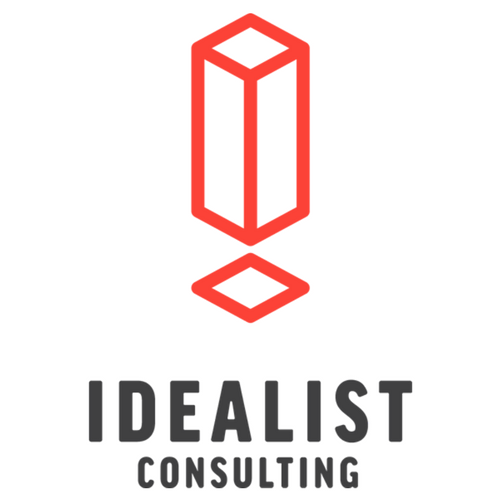 Lead with who we are, not what we do
The next key change in our rebrand was realizing that our culture and personalities are what drive great relationships and great project outcomes, so we wanted to elevate that. When you go to the Idealist Consulting website today, you'll see very little mention of what we do, and that's by design.
When you work with us, you're working with a team that is elevated by every aspect of our personalities: we're parents, cooks, and gardeners in addition to holding dozens of Salesforce certifications.
It's these diverse backgrounds and interests that make us empathetic partners in your projects. We want to see you succeed on Salesforce because when your day-to-day work is easier, the rest of your life is better too.
Values matter
Next, we narrowed our company values down from ten to five. This was largely informed by our focus groups. When we first wrote values four years ago, it was a pretty quick process where we looked to Nike and Google for inspiration and couldn't narrow it down so we kept values like "Be a Learner" and "Be Agile." But with Eighth Rule's guidance, we wanted them to be memorable and come directly out of what drives us as individuals and as a team.
Here are the values we landed on:
Stay Human
Drive Change
Believe in Impact
Nurture Community
Make Time to Play
We have been using these for several months now and incorporating them into our work in large and small ways. We had a session at a company retreat brainstorming ways to "activate" the values on a daily basis, ideas such as starting to use webcams in our kick-off meetings to stay human.
Progressive is the new black
Finally, we made an intentional decision to start talking about progressive organizations rather than nonprofits or businesses. Since 2014 we have worked with small and medium businesses in addition to nonprofits, and our target market is anyone who identifies with progressive values. To us, this means favoring or advocating progress, change, improvement or reform, as opposed to wishing to maintain things as they are.
Progressive organizations want to make progress toward better conditions, employ and advocate new ideas or experimental methods, and strive toward continuous improvement.
We need more progressive thinking these days.
We hope you like our new look: please let us know what you think in Comments section below.