CASA of Oregon Uses On-Site Discovery to Optimize Salesforce
The Objective
Anchored in service to farmworkers, CASA (Community And Shelter Assistance Corp) of Oregon improves the lives of Oregonians in underserved communities by building affordable housing, neighborhood facilities, and programs that increase families' financial well-being.
Established in 1988, they have deep roots in the community and ample data to show their impact. They implemented Salesforce in 2012 but now needed to optimize their instance in order to increase organization-wide adoption.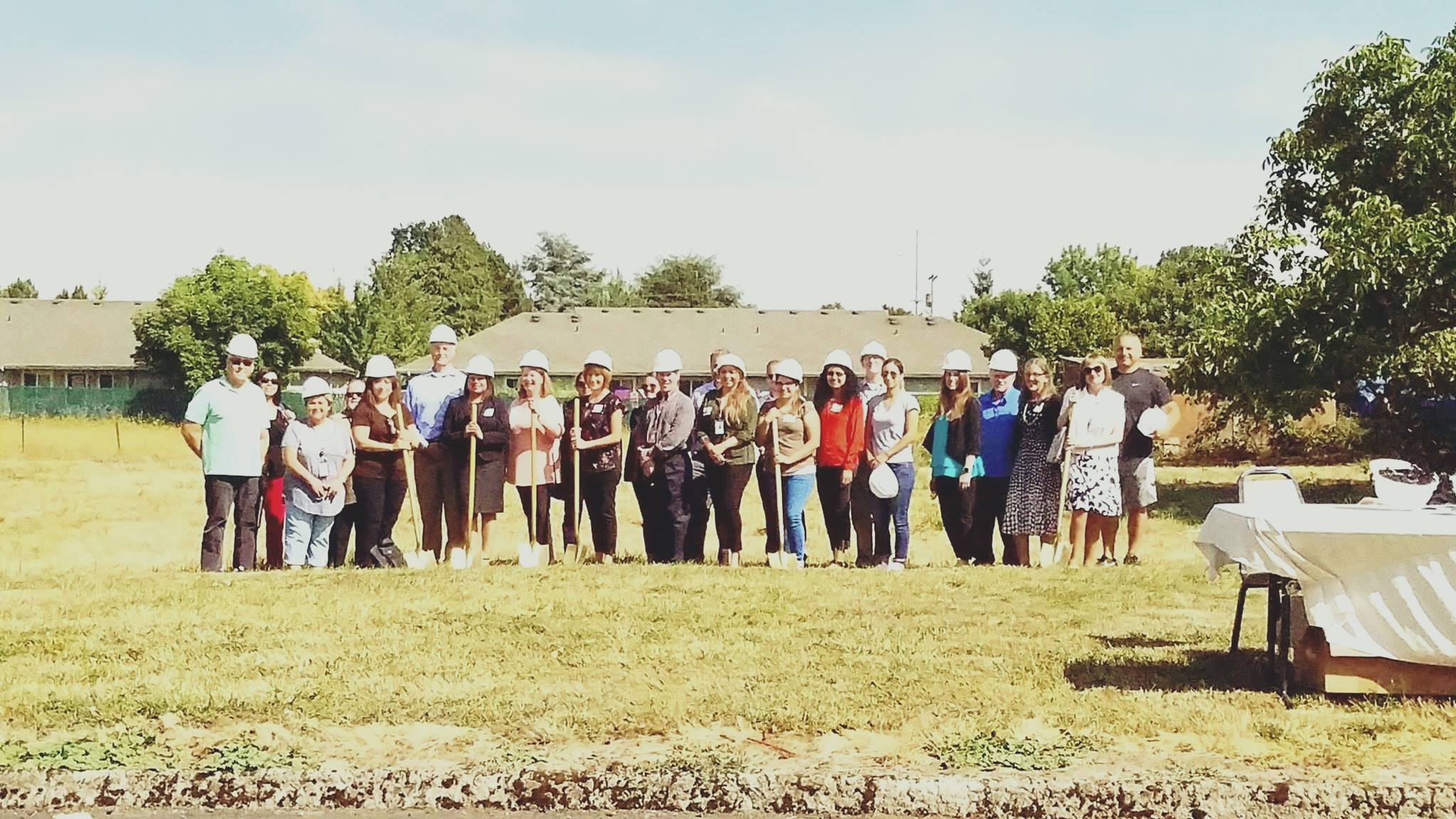 The CASA of Oregon team stands at the site of their new affordable housing project in Woodburn, OR.
The Problem
While the organization had implemented Salesforce six years ago, not every department was using it. Their data was spread across different platforms and Excel sheets. They have a lot of creative and motivated people, but their diverse job responsibilities made it hard to focus Salesforce improvements.
Executive Director Peter Hainley was frustrated there wasn't one place he could go to see all their data. He knew they needed to solve this issue from the top down, with his executive support.
"Peter saw we weren't collaborating. He saw Salesforce as a bridge [to fix the issue]. With our organization's growth, he knew we needed to create a streamlined system for us all to be on the same page," said Administrative Services Manager Denee Beene.
The Solution
CASA of Oregon decided to ask for help. They reached out to their Salesforce Account Executive in late 2017 for help finding a Salesforce consulting partner. After initial conversations with three consulting partners, they chose Idealist Consulting based on great sales interactions and their local presence in Portland.
Idealist Consulting got right to work. After several discussions, Idealist Consulting and CASA of Oregon decided to schedule on-site discovery, an in-person meeting that takes a deep dive into the organization and its staff's needs over the course of a few days.
During CASA of Oregon's on-site discovery, several Idealist Consulting consultants guided the team to outline their goals organization wide and by department. They listed their current frustrations and innovative changes they'd like to make. After several days of focused work, CASA of Oregon and Idealist Consulting had a detailed picture of just how CASA of Oregon needed their Salesforce instance to work for them.
"Immediately, I was grateful for our Idealist consultants— they already had their head wrapped around CASA. [They] made it very clear what our staff needed. They really guided and directed conversations with staff on our end. It took a little bit to get all our staff focused on the project but once we started the user stories and sprints, it was incredibly helpful. Our staff got the attention they needed," said Communications Manager Nicole Larsen.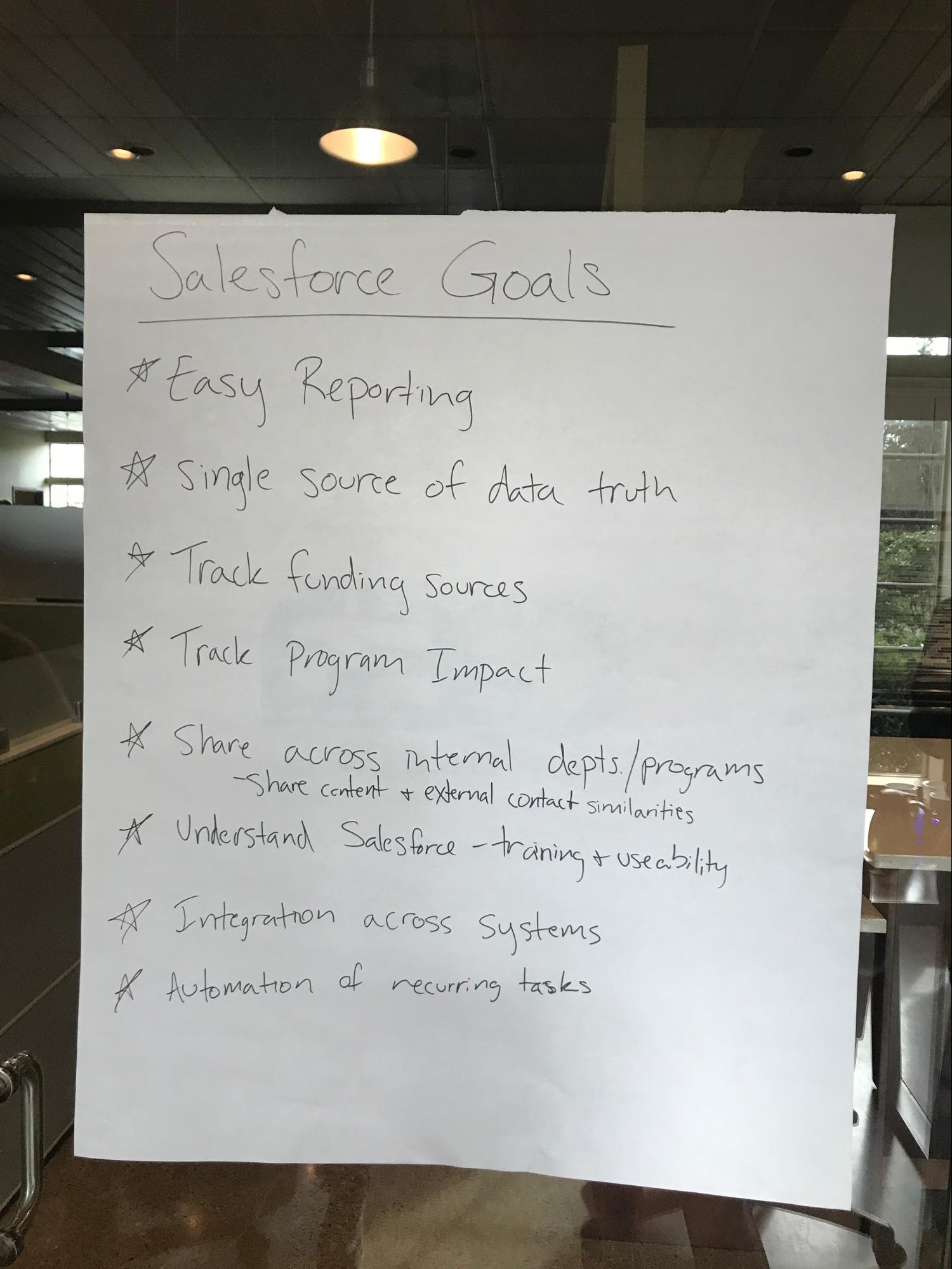 CASA of Oregon's goals for their Salesforce instance, as outlined with their team during their on-site discovery with Idealist Consulting.
The Result
CASA of Oregon has come a long way since 2012. Their staff are no longer using disparate systems and they go directly to Salesforce when they need to pull a report or find a contact. They have a Salesforce instance built for their nonprofit's needs.
For the rest of 2018, they are working on building out policies and procedures for each department's use of Salesforce. They are also using Idealist Consulting's Admin Support offering in lieu of an internal Salesforce Admin.
"We currently have someone from Idealist to help us bounce around ideas. We've been toying with hiring a data manager. We realize for this to be successful we will eventually need someone, but it's helpful to have Idealist Consulting doing it in the meantime," said Nicole Larsen.
"I'm so blown away by how loosely I can explain something to our consultant and they get it so quickly," said Denee Beene.
They are excited to continue building out Salesforce. With an eye to the future, they are already thinking about how to keep their new database in good shape for years to come and how they can use Salesforce to improve their marketing and communications.
Ready to see how on-site discovery can help optimize your instance of Salesforce?
We've been helping nonprofits use Salesforce for 13 years. If your team is ready to improve your use of Salesforce, our team is ready to talk with you.