Case Study: Disaster Relief Org Team Rubicon Moves to NGO Connect to Scale Fundraising Impact
"The Nonprofit Starter Pack allowed us to scale our initial efforts to engage our supporters. The StayClassy integration with NGO Connect will allow us to elevate our engagement to another level. We're all fired up about the potential for timely interactions with our Support Squad." -Matt Scott, Online Donations & Donor Engagement Coordinator at Team Rubicon
Background
Disaster relief organization Team Rubicon unites the skills and experiences of military veterans with first responders to rapidly deploy emergency response teams. In the past three years, Team Rubicon has gone from a donation revenue of $250k to $5.5 million in 2013.
The Nonprofit Starter Pack was instrumental in helping them achieve initial goals. Team Rubicon then turned to NGO Connect (formerly roundCause) for the next level. Here's how their journey looked from the inside.
The Nonprofit Starter Pack: a solid foundation
Just a few years ago, Team Rubicon had the same concerns as every growing organization: how to make more impact with less time and money. How to make grassroots fundraising feel personal, yet scale their operation on shoestring budget.
They started with free Google tools, and fueled by passionate young staff members could achieve a certain threshold of success. But in order to reach people where, when, and how they wanted to be reached, Team Rubicon had to turn to something bigger, and chose Salesforce.
The Nonprofit Starter Pack gave Team Rubicon a solid foundation, as it has with over 6000 customers.Through a StayClassy integration, they could quickly deploy peer-to-peer (P2P) fundraising campaigns to start raising money within hours of a disaster. But soon they were ready for more.
NGO Connect: the next frontier
With the firm foundation of the Nonprofit Starter Pack, Team Rubicon turned to NGO Connect for the next step in their CRM journey. NGO Connect provides a more sophisticated back-end CRM and is a good fit for organizations that are aggressive about growth. The Idealist Consulting team had worked collaboratively with Team Rubicon on their StayClassy implementation, and partnered again to deploy the NGO Connect-StayClassy integration using strengths in agile project management.
Through this integration, Team Rubicon will be able to measure clear value from their P2P efforts and leverage data points to increase the effectiveness of their core support group. NGO Connect will help them have a greater degree of accountability for supporters. And as any development officer knows, with accountability comes more donations.
Team Rubicon is particularly excited about:
1. Peer-to-Peer campaign hierarchy
Team Rubicon has put a lot of smart strategy into how they manage P2P, but was previously unable to see the relationship between supporter and fundraiser. Having CRM architecture that reflects P2P hierarchy is critical because it allows them to segment data in real time and directly take action. They can focus on content rather than logistics and communication channels.
For example, say a supporter in Washington has given $50, then asks their friends to each launch a StayClassy fundraising page to raise money for a Washington wildfire disaster effort, and five of them do. In NGO Connect, Team Rubicon will be able to see this supporter linked to the five fundraisers, so they can better understand the impact of these relationships and be smarter about how they follow up.
2. Recurring revenue
Managing recurring revenue helps Team Rubicon balance disaster-centered donations with a more steady revenue stream. Previously, Team Rubicon could not see real pipeline data without a lot of custom configuration. NGO Connect solves this through cloning the Opportunities object. Forecasting recurring revenue was a primary reason they knew it was time to invest in NGO Connect.
The system in action
To see how the NGO Connect-StayClassy integration works, here's what the first 96 hours after a disaster look like. This system was in full force during Operation Starting Gun, a 2013 response Team Rubicon coordinated to the tornado in Moore, Oklahoma.
Within 24 hrs: Evaluate and deploy
On the ground: Veteran Emergency Response Teams (VERTs) arrive to the disaster site
StayClassy master campaign page launches: all P2P efforts roll up into this
Support squad mobilizes: Existing donors and fundraisers are contacted. Each one can create their own fundraising campaign
Within 48 hours: Link supporters to impact
Postcard sent: Donors get a direct personalized message about their impact
Phone call: Donors are personally called
Text: personalized texts are sent
In each case, the acknowledgment is personalized: for example, Susan donates $100, she gets a thank you with a photo of the area and a description of impact.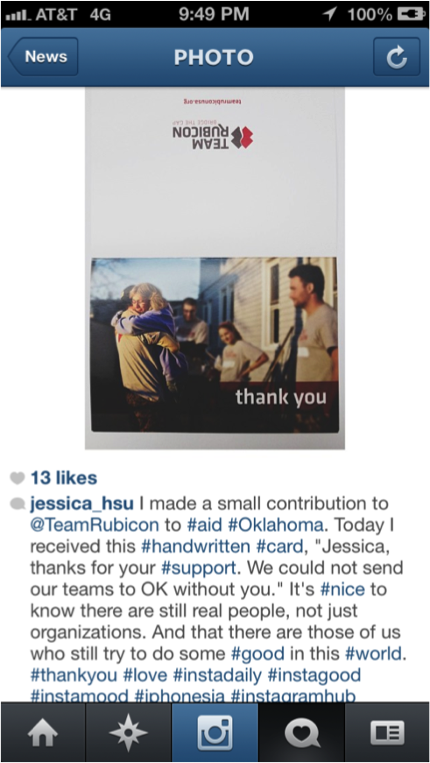 A donor's Instagram post about the thank you postcard she received [image courtesy of Team Rubicon]
Within 96 hrs: Leverage support to scale operations
The cycle continues: more funds are raised and the total lifetime value of each donor keeps ticking up. Other data points: engagement with core supporters, decreased churn, time it takes to begin cultivating lifetime relationship.
Operations are scaled to meet needs of community based on support given
After 96 hours, there are typically triple the volunteers involved as on the first day. For Operation Starting Gun, 1400 of 2050 donors were uniquely thanked. And in total $170K was raised - $26k (15%) of which came from people who gave twice who were personally called and thanked. Team Rubicon turned this $26K in donations into $565k in services in the community of Moore, OK. Oklahoma. Much of this process was facilitated previously with StayClassy and Salesforce, but with the addition of NGO Connect Team Rubicon will be able to make smarter decisions about how to segment and communicate with donors.

How that money and effort translated into services in Moore [image courtesy of Team Rubicon]
What's next
Team Rubicon sees great growth opportunity with fundraisers, and being able to better track and cultivate P2P fundraiser relationships in Salesforce is what they are most looking forward to in the next few years. Later this fall, we will bring you a post focused on the next nine months and how recurring donations look: the real work starts when you start to cultivate and engage new donors.
How to learn more
If you're an organization who is aggressive about growth and open to an agile development style, NGO Connect may be right for you and we would be happy to talk about your options. You have a unique opportunity right now to shape how this technology develops. Give us a call at 800-889-8675 or reach out to schedule a chat. To learn more about the great work Team Rubicon does, watch their story.
Thanks to Matt Scott of Team Rubicon for collaborating on this post.
Page Images