Custom Salesforce Experience Cloud Connects Nonprofit New York Members
Note: We've updated this blog post with Nonprofit New York's new branding, and we added content from their session with us at Dreamforce 2019.
The Objective
For over 30 years, Nonprofit New York has served as the voice and information source for New York nonprofits. With nearly 1,700 member organizations throughout New York City, Long Island and Westchester, they provide tools, information, and resources for nonprofits to improve their performance and achieve their missions.
Nonprofit New York came to Idealist Consulting wanting to create an online portal where nonprofit professionals could easily access the tools and resources Nonprofit New York offers. They also wanted to give members a place they could communicate with one another or pose questions directly to Nonprofit New York staff.

The Problem
In 2015, Nonprofit New York overhauled their website and began using Wordpress, a popular website builder, and content management system. However, after the overhaul, they still ran into roadblocks. For example, they couldn't track visitor activity the way they needed in order to personalize and improve content, the site offered little search functionality, and there was no way for members to have separate logins for their own needs.
Nonprofit New York knew, from feedback from their members, they needed more than a blog section of their website to address members' needs and offer their resources in a user-friendly, helpful way. Nonprofit New York was posed with a challenge: How could Nonprofit New York improve how they connect with their members and partners?
"It was very limited data. We really wanted to be able to understand and capture what people need and are looking for," said Constance Ferber, Knowledge Director.
The Solution
After a number of false starts and frustrations with the website and conducting internal research with members and staff, Nonprofit New York decided it was time to invest in Salesforce Experience Cloud, Salesforce's online portal product.
As longtime Salesforce users, the choice to on Experience Cloud made sense. Not only could they incorporate their Salesforce data into this portal, but they could also easily create member logins and track how the platform is used to constantly iterate on a more relevant and responsive experience for their members.
Additionally, Idealist Consulting added in a case management component to The Community so members could request specific content, helping Nonprofit New York capture and respond to member's needs, in a much more streamlined way.
The Result
Although Nonprofit New York's initial objective was to improve access to Nonprofit New York tools and resources, their research, conversations, and the move to Salesforce Experience Cloud sparked a complete overhaul. Nonprofit New York now has a knowledge center, a referral database, a forum, and case management system all in one platform that they call "the Community."
Now if a member has a question, they have multiple ways to find an answer within the Community.
Now that their Salesforce Experience Cloud has been rolled out, Nonprofit New York will be focusing on increasing engagement, such as users, searches, and general forum activity. They'll also be helping members get used to the interface and encouraging them to use and post to the Community forums. Through these individual member interactions, Nonprofit New York is taking a big step in advancing not only their own mission but also the missions of nonprofits throughout New York.
"We're focused on making it usable, not just updated. We had a library before, but now we have a community," said Melkis Alvarez-Baez, Chief Operations Officer.
Check out the screenshots below to see what their Salesforce Experience Cloud looks like: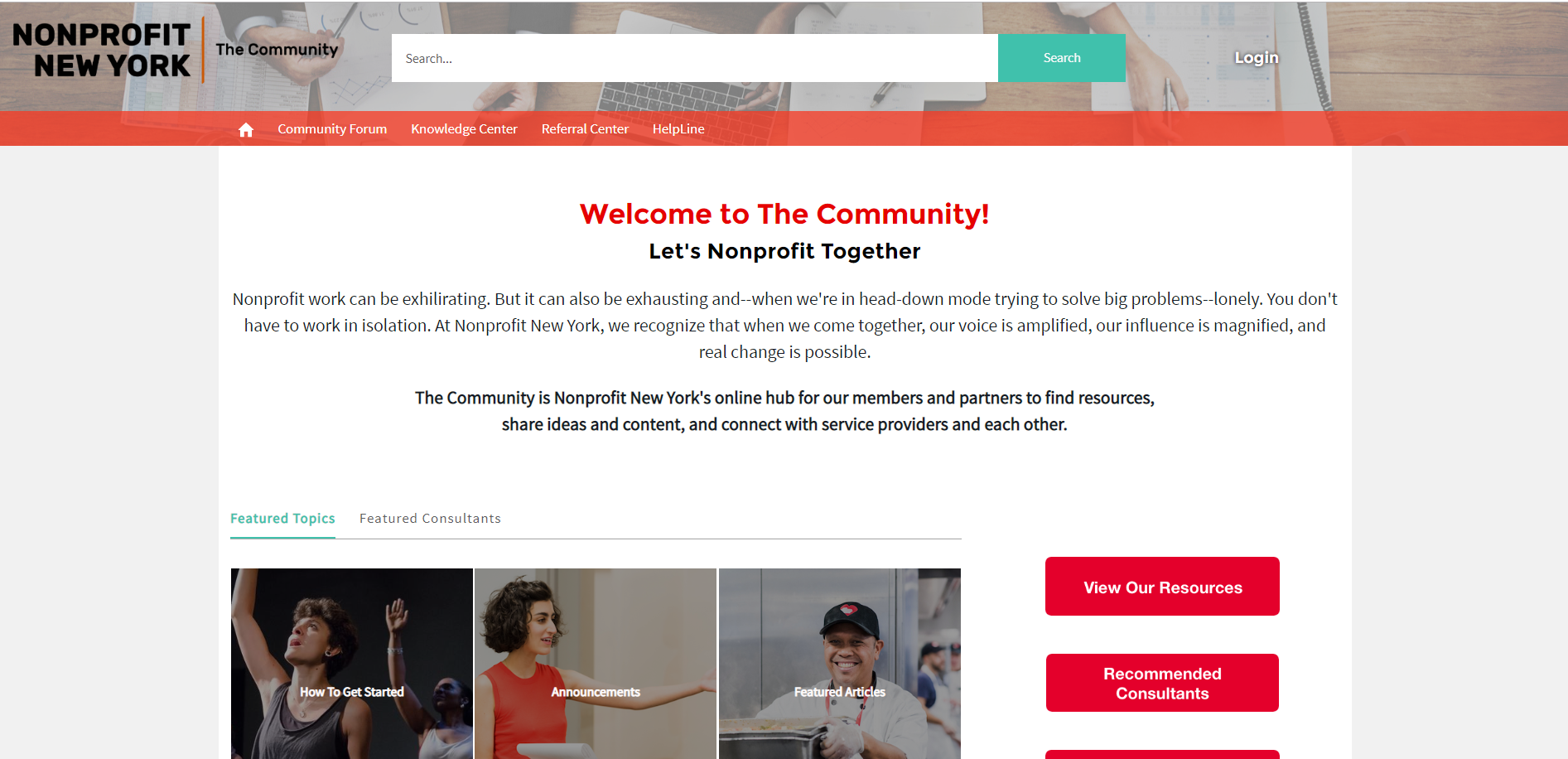 The homepage of the Community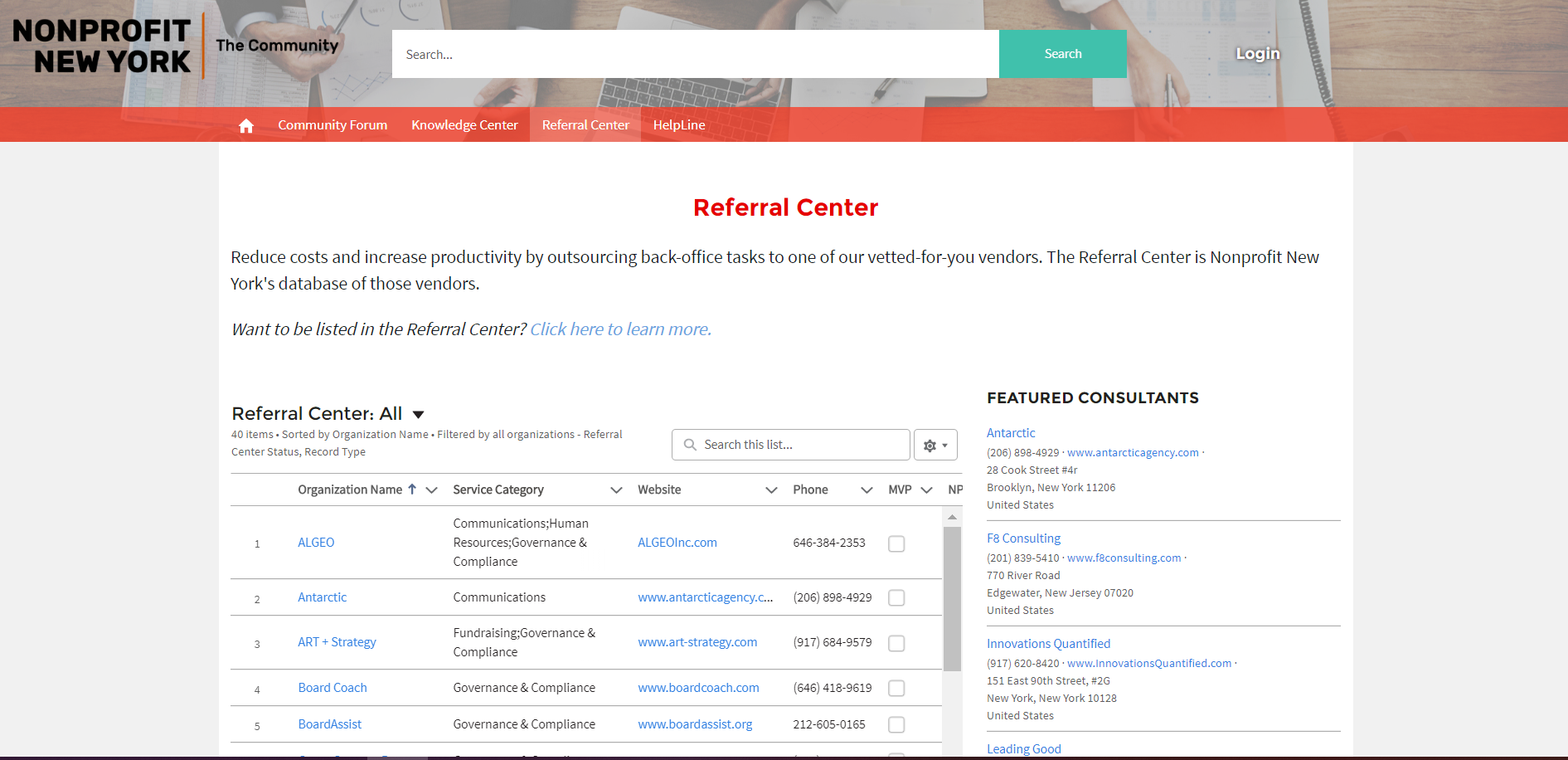 The Referral Center for the Community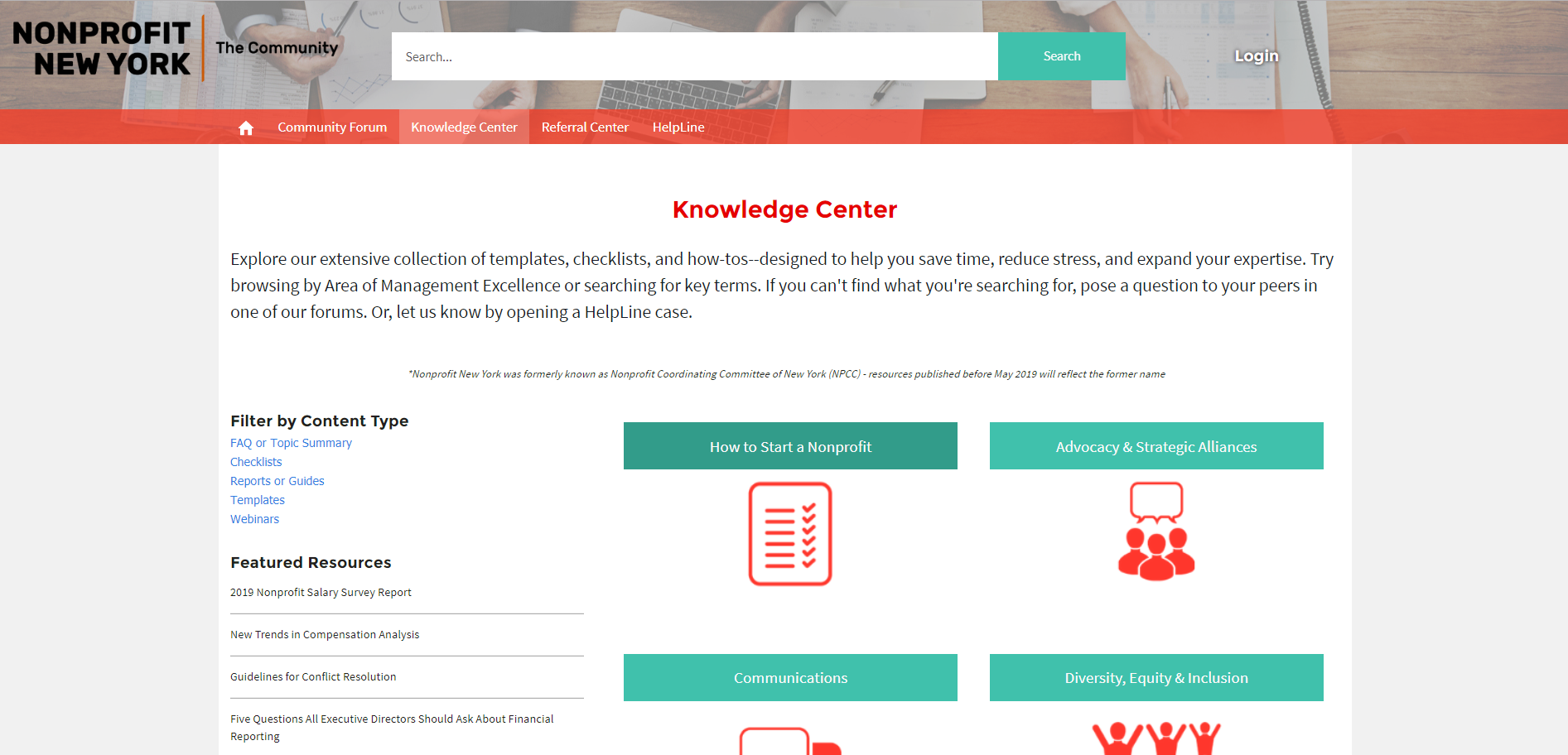 The Knowledge Center for the Community
At Dreamforce 2019, we had the oppurtunity to present with Nonprofit New York and talk about how they use Salesforce Experience Cloud. Check out some slides from the presentation below.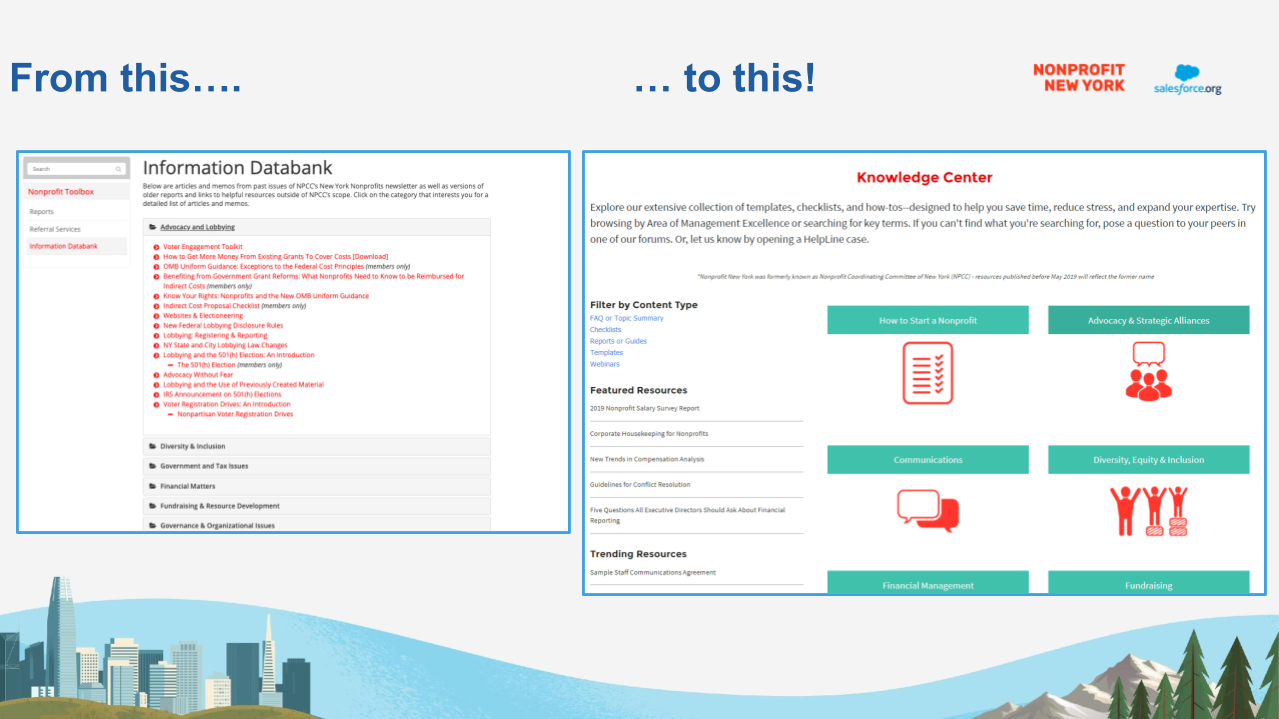 A before and after of the Knowledge Center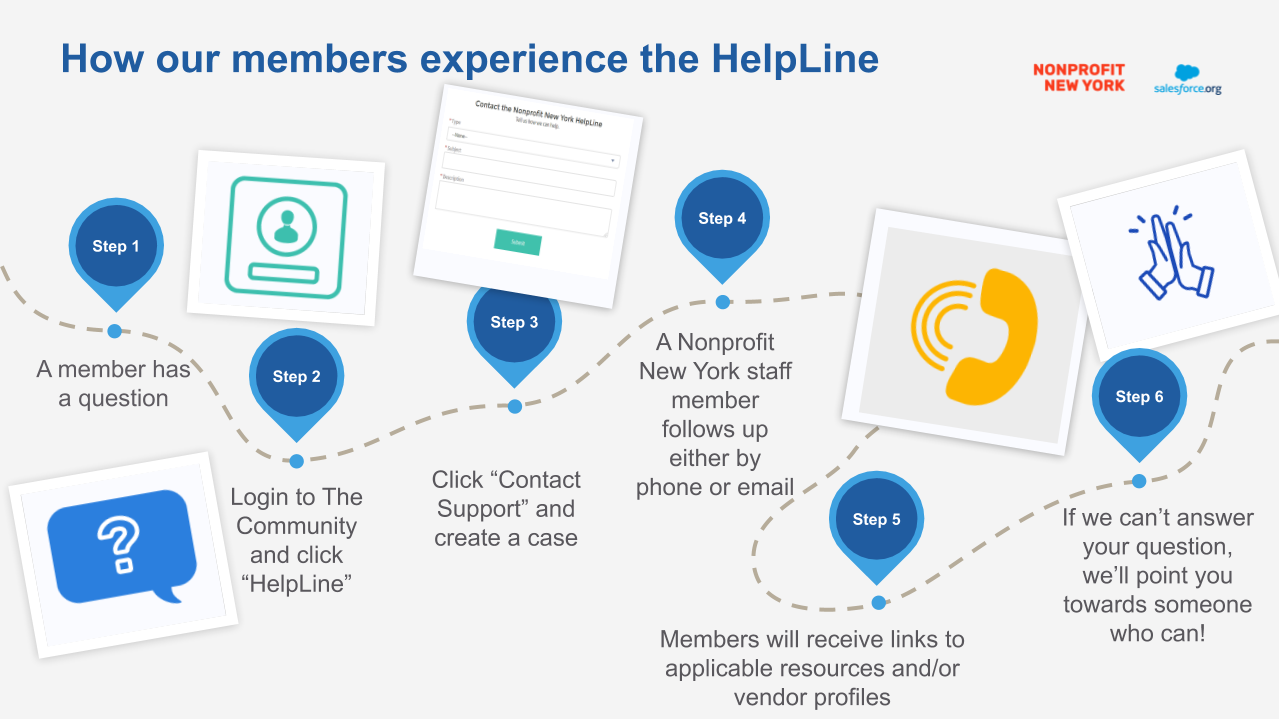 With Salesforce Experience Cloud, Nonprofit New York created a helpline to directly connect with memebers.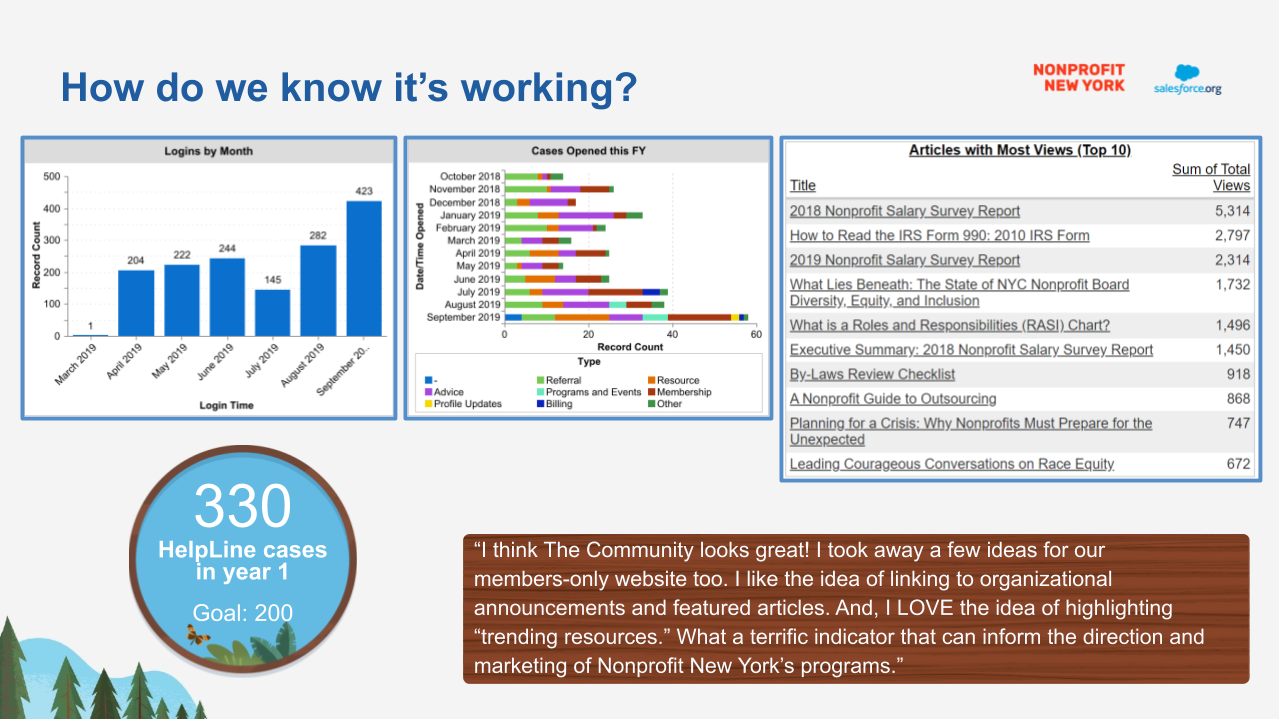 Nonprofit New York greatly increased their impact with Salesforce Experience Cloud, and they shared the data for everyone to see.
In their words:
"With the [Salesforce Experience Cloud], we are able to see what our members needs are, and respond. We will be smarter about what we are putting out there. Members can directly tell us or we can anticipate their needs by the things they are searching for, and cases they are opening. We weren't able to do this before with just our website," said Alvarez-Baez.
Interested in Salesforce Experience Cloud for your organization?
We love talking about how Salesforce can help your organization grow. Reach out using the button below.