How to make your consulting budget stretch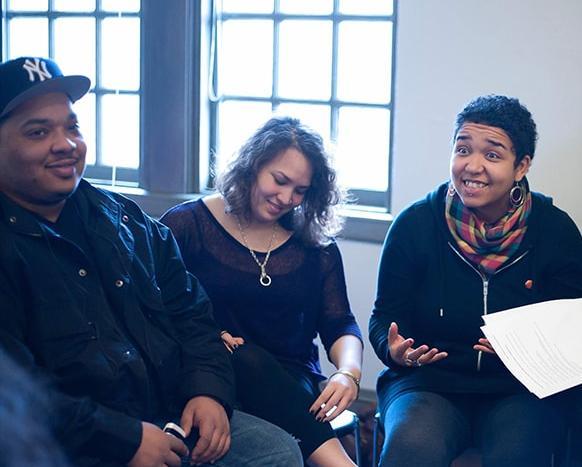 This post is based on a Dreamforce presentation we did last year with Patti Nelson of Oregon Humanities. For the full presentation, watch the recording here.
Oregon Humanities' mission is to connect Oregonians to ideas that change lives and transform communities. The way they do this? Their largest program is Conversation Project which facilitates conversations out in the public to get people talking and engaged more than 5000 participants last year! They also give grants and host many other programs.
Oregon Humanities was a great partner in their Salesforce implementation project which got us thinking, how can clients prepare in a way that helps them reduce costs and do more with their consulting budget?
In preparing this presentation we learned there were two main ways to reduce costs and do more:
consider what you can take in-house,
preparing smartly so that you make the most of your consultant's time.
Setting the stage for a strong project
Several years ago, Oregon Humanities was using Filemaker and had to call one person in Ohio every time something didn't work– not so sustainable! They also used Mockforms, PayPal, and Docusign.
The team started doing their research and quickly learned that the consensus between experts was to consolidate through Salesforce.
How did Oregon Humanities get to their endpoint of having a fully adopted Salesforce instance with a happy team? They did three things very right:
1. Project Planning: set a foundation before you even sign the first contract
Start by building your team: consider who has prior technology experience. Oregon Humanities formed a Database Committee that met every week for a year so that all stakeholders were on the same page and there was organizational buy-in. This resulted in faster response times. They also hired a Salesforce Admin and made the case for this person to be funded through a grant.
If you don't already, now's the time to learn to love your data. Know where your data is and export/review it ahead of your Salesforce implementation. This doesn't have to be driven by a Salesforce expert, anyone who is familiar with data can own this step. Typically data migration can take up to 40-60% of a project budget, so it is well worth your time to consider how you can reduce this upfront.
Then go ahead and start your journey: begin to familiarize yourself with Salesforce through Trailhead. Even some of the basics like Understanding Salesforce Architecture will be tremendously helpful and help you communicate better with your consultant.
2. Be smart about Third Party Applications
Make every effort to do the research in-house of what apps will work best for your organization because you know your internal processes best. Oregon Humanities worked with C&P, FormAssembly, DocuSign, Constant Contact, Conga, US Geocoder, and MapAnything– together, these applications stretch their Salesforce instance into nearly every aspect of their organization.
As you're doing research, remember, there is no perfect application! Something will be slightly wrong (or against your business process) with most apps, or the pricing might have changed recently. This is your first lesson in learning how to be flexible, and when it may be most efficient to bend your business process rather than expecting an app to do it all.
Pro tip: leverage the Power of Us Hub and AppExchange to ask questions about apps: Patti of Oregon Humanities highly recommends the App Advice & Consumer Reports and Nonprofit Cloud groups.
3. Develop a smart training plan
Oregon Humanities had a few hours in their consulting budget originally to work on training, but Patti ended up taking most of this on to free up more Idealist time for data migration.
In putting together an internal training, Patti found it was key to set expectations: help your team understand that people won't get it the first time, and that's ok. Patti took a lot of screenshots of old vs. new process and put together training slide decks to make it as easy as possible for her team to re-orient.
Oregon Humanities also created a clear process for questions and cases, using Salesforce's native case management system which had the added benefit of introducing users to Chatter.
Putting it all together
In closing, Oregon Humanities has five key tips for anyone trying to make their Salesforce consulting budget stretch–note that none of them involve negotiating your actual budget!
Get Organizational Buy-in: from exec level, managers, and end user. Make people ready to make the transition.

Do Trailheads! Self-educate in advance so that you can own the system yourself after your consultant is done.

Clean up your data– then clean it again, and again. The more you can up upfront, the better your Salesforce reports will be.

Take on 3rd party application discovery yourself. Find someone in-house who can own this and sit in on demos and do research.

Take on training internally– or use a train the trainer model. This will be much cheaper and lead to strong user adoption in the long run than relying on a consultant for everything.
Ready to how discuss how Salesforce could work for your organization?
If you're interested in talking about Salesforce for nonprofits, our team is ready for you.