The James Beard Foundation Gets Its First Taste of Salesforce
The Objective
The annual awards presented by the James Beard Foundation are known as the Oscars of food. But the work of this premier culinary foundation and its chefs goes beyond the food they make. The nonprofit organization's mission is to nurture and honor chefs and other leaders who are making food culture in America more sustainable and diverse for everyone. Their chefs represent and strive for diversity, inclusion, and more women in leadership. Along with its culinary experiences, the James Beard Foundation uses its voice and its chefs to educate and empower leaders and communities to drive behavior, culture, and policy change around food. In summary, the James Beard Foundation promotes Good Food for Good™. 
The James Beard Foundation came to Idealist Consulting to migrate their data and processes from Neon onto Salesforce. 
The Problem
Before Salesforce, the James Beard Foundation had been using Neon for several years, and were on another nonprofit database before that. The problem was that those CRMs didn't offer the flexibility the Foundation needed. The James Beard Foundation hosts over 200 events a year, organizes a large award show, functions as a restaurant, and has given more than $8 million in financial aid to talented culinary, beverage, and food system students in need of funds to pursue their education. The work of the Foundation differs quite a bit from other nonprofits, so many nonprofit CRMs don't fit its needs. This put them in a position where they needed to use a variety of systems. Having different systems for different requirements was difficult for staff to use and did not give the James Beard Foundation room to grow.
There was also another problem to overcome: people's lack of confidence in the data. Susana Yepes, the Database Administrator, said that experiences with past technology caused a lot of people to be skeptical of their data.
The Solution
The James Beard Foundation needed a reliable database that could grow and be flexible for their unique processes. After receiving a recommendation from a consultant, they decided to move to Salesforce because of its capacity, customization ability, automation, constant updates, and its online community. The James Beard Foundation teamed up with Idealist Consulting to help them with the switch.
For an organization as large as the James Beard Foundation, moving all their data and processes over at once would be costly and difficult. It would involve many moving parts, and pausing all their processes during the transition was not feasible. The solution for such a large project was a phased approach. This method allowed them more time to focus on carefully adapting Salesforce to their needs and allow for user training and adoption.
During the first phase, the focus was on building their membership database while switching to a new membership paradigm. This meant moving onto Salesforce while molding it to mirror how their membership operates in real life at the same time. Idealist Consulting would help customize their Salesforce instance to fit the fields of their old membership while fitting it to their new paradigm. The first phase also involved setting it up to work with future functionalities, like being able to use it with the Foundation's events and reservation platform.
The ultimate goals for the James Beard Foundation are to have a holistic view of their constituents, possess a CRM to grow in, and save time by automating tasks. Reaching these goals will mean doing more meaningful work.
The Result
The James Beard Foundation plans on using Salesforce as the source of truth for all data at the organization. With Salesforce, there's more opportunity to make data-driven decisions and get a better picture of what is happening with the Foundation. Even though the Foundation has recently started using Salesforce, Yepes says that people are already starting to see the benefits of having reliable data.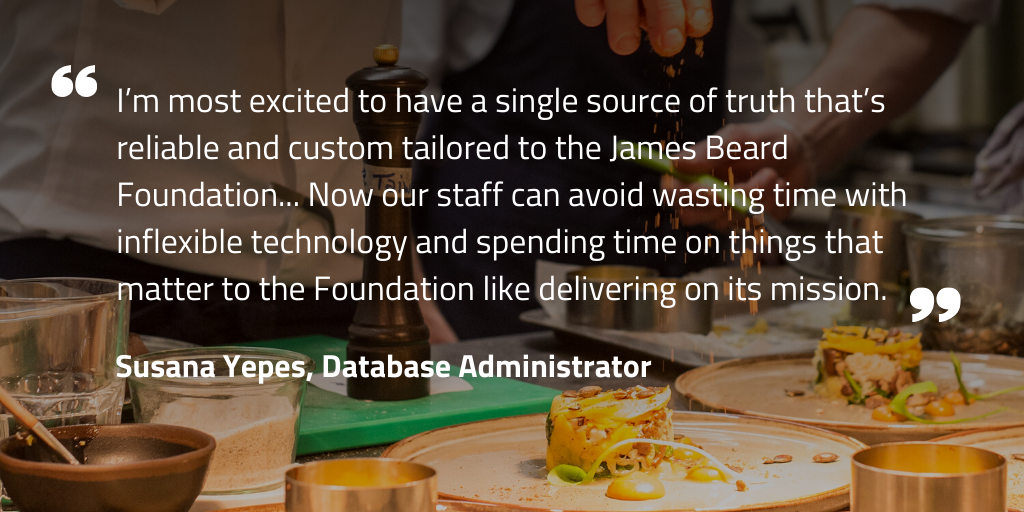 In Their Words
"I'm most excited to have a single source of truth that's reliable and custom tailored to the James Beard Foundation... Now our staff can avoid wasting time with inflexible technology and spending time on things that matter to the Foundation like delivering on its mission."
Are You Ready to Switch to Salesforce?
Contact us to see how we can help your organization make the move to Salesforce.