My 5 favorite ways that Sales Cloud enables sales teams
As a salesperson for a small business who both uses Salesforce's Sales Cloud internally and sells it to our clients, I have a unique vantage point. I am not only able to test best practices myself, but I also get to hear what are the biggest pain points and opportunities with other businesses.
Here's what I've learned over the years: the old school Mad Men-esque salesman is a relic of the past. Customers of today want a partner, someone who can educate and help them.
To be able to be this sort of resource, you can't rely on charisma alone, and you certainly can't rely on them to remember manual data entry steps; you need sophisticated tools. Enter Salesforce's Sales Cloud.
Today, I want to share 5 ways you can use Sales Cloud to enable your sales team, just like I've done.
1. Use the tool to assist with communication between departments
Perhaps one of the most difficult parts of any deal is the hand-off between departments. The ease with which your internal teams can capture and share data directly affects their ability to serve your customers.
If any aspect of your sales process is especially cumbersome, it will either not be done or will result in a less productive and less happy sales team.
For example, if your current process requires your team to have multiple tabs open just to update a status, there is a high likelihood that statuses in your system are not up to date.
Your best performers will find a workaround, adopting their own process for capturing information and using it to close deals. Leaving the rest of the organization in the dark. And you're completely screwed if those all-star salespeople leave your organization. Every deal is peppered with nuance, and Sales Cloud Lightning helps our team capture those nuances and share them throughout the organization.
2. Use the tool to assist with customer communication
Your sales team is made-up of relationship people – and relationship people do not want to spend their days doing data entry. They want to have a conversation, build a relationship, and move on to the next one. If the process of moving from one relationship to the next is painful, how likely is it that your rep will be in a good, relationship-building mood when it comes to the next call?
For example, if your sales team needs to record calls and your sales solution does not prompt your staff to automatically record calls, then the process is adding undue stress to your teams' daily activities.
Making sure your sales team is equipped to easily and quickly share their knowledge of a customer and their interactions will not just speed up a call, it will improve your sales team's attitude about their jobs.
3. Use Sales Cloud to integrate with everything but the kitchen sink
Not only do we rely on Sales Cloud Lightning, the updated modern interface of Salesforce with many new features and page layouts, but we also integrate a host of tools that simplify, optimize, and automate our processes.
Without integration of Salesforce and its connected apps between departments, even the most advanced tools become little more than a glorified spreadsheet. If data does not flow consistently from one side of the business to the other, there is no opportunity to realize ROI.
Here are some of my favorite and most-used integrations with Sales Cloud:
Data solution: I use this solution to identify key players within prospective companies and generate email addresses, phone numbers, and locations that are imported into Salesforce with one-click.
Project management solution: As soon as a lead converts to a sale, a project is created in our project management solution with all of the high-level milestones, tasks, and associated budgets. This ensures that there is never a disconnect between sales and fulfillment.
Revenue tools: When it is time to bill, API integration with our revenue tools automatically process billing and posts the activity to our general ledger solution. That information gets pushed to Salesforce, and we can easily see what has been sold, where the revenue is coming from, and get a clear picture of cash flow.
4. Dashboards allow individual contributors to own their contribution
With Sales Cloud, you can customize Dashboards for every member of your sales team. Sales manager-level dashboards provide a view of the entire team, revenue pipeline, and bookings.
For your sales reps, dashboards keep the most important information in view: their pipeline. To ensure the team is organized, each rep also sees timelines of key deals and task reminders – all of which fully integrates with their calendars.
A Salesforce article on sales dashboards notes, "The key to a successful sales dashboard is to look at your reports, your personal sales goals, and what your company needs from you in order to determine which metrics are most important for your current needs."
5. The Lightning interface keeps you up to date in just a glance
If your organization is operating in Lightning, your Sales Cloud experience is even better. The new modern interface includes lots of new features and enhanced page layouts to help sales teams quickly understand where a lead is within the sales pipeline, and their next steps.
One of my favorite features is the progress bar at the top of a page that shows how each Lead or Opportunity is progressing through the pipeline. Check out our screenshots below of what this could look like for you. 


Another favorite is viewing the pipeline in Kanban view. Only in Sales Cloud Lightning can sales reps monitor progress with leads, contracts, and campaigns using the same Kanban-style layout used for monitoring opportunities.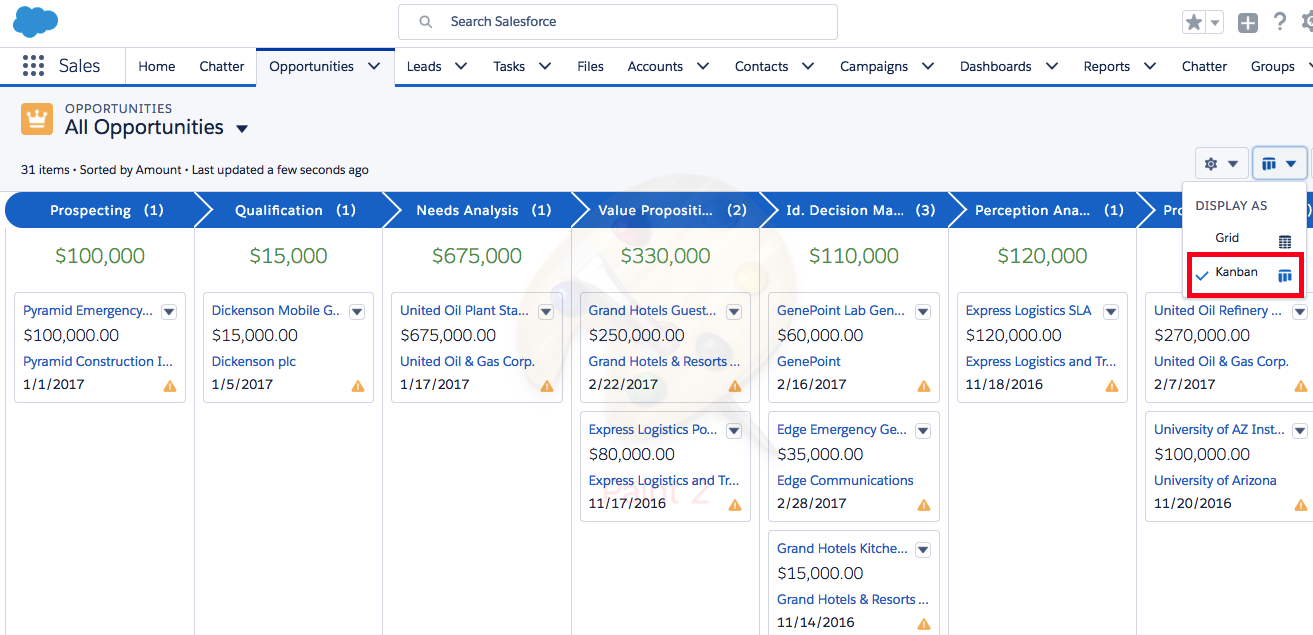 Image credit: http://www.infallibletechie.com
What are you waiting for?
Whether you are using Salesforce already or trying to make a case for increased investment in Salesforce growth, sales enablement is key to driving Salesforce ROI. Sales Cloud supports increased sales enablement at every level of the business and drives a better experience for both your customers and your sales team.
Idealist Consulting has worked with dozens of sales teams to improve your process and give you more time for building relationships.