Our advice for passing the Salesforce Nonprofit Cloud exam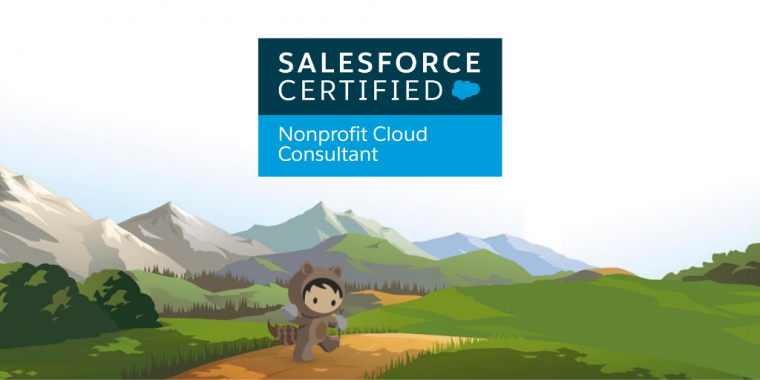 Along with the announcement of the new Nonprofit Cloud, came the beta rollout of the much-anticipated Nonprofit Cloud certification. As one of the original founding partners who helped build the Nonprofit Success Pack, we were overjoyed!
Three of our tenured consultants signed up to take the beta exam. They were given 120 questions (double the normal 60 for Salesforce exams) with the ability to provide feedback on the questions and help inform which questions would form the exam once it became generally available.
We are proud to say all three passed!
As we gear up for the rest of our nonprofit consultants to take the exam, we wanted to share their advice and experience for those looking to take the Nonprofit Cloud exam.
What surprised you most about the exam?
Grant: The exam was not strictly based on the technical aspects of NPSP but also included more general Salesforce concepts (as would be expected since this is a 'consultant' exam).
Kristen: Some of the questions were about very small niche areas of Salesforce.
Rochelle: It wasn't just focused on the technology. There were several questions about process frameworks, like governance.
What advice do you have for those thinking about taking the exam in 2019?
Grant: I would definitely work through the recommended trails/modules on Trailhead. You'll certainly need to understand and be comfortable with the NPSP architecture and be able to apply that understanding in different scenarios. If you are not working in NPSP on daily basis, definitely spin up a dev org, install NPSP, and make sure you get some hands-on time. With all that said, don't forget that you'll need to apply knowledge from outside of NPSP (the recommended trails will help guide you).
Kristen: Complete all of the trailheads for the NPSP, and read questions carefully during the exam as they will often try to trip you up by changing a word or rewording information you may have seen elsewhere.
Rochelle: Complete this Trailhead Trailmix and you'll be prepared!
What does having a Nonprofit Cloud certification mean for you and your career?
Grant: It feels great to have this cert under the belt. Most importantly for me, launching my career into Salesforce while working in the nonprofit space, this certification is more than just understanding the technology, but validates my knowledge of the nonprofit space as a whole.
Kristen: I have spent a lot of time working with nonprofits and helping them with their Salesforce deployments over the past five years. For many years the only certification we could get were areas that did not apply to the work we do with nonprofits. By having this new certification, I feel that it provides some validation to our work every day in this very important part of Salesforce and acknowledges an area often overlooked.
Rochelle: I always wondered if I knew the "right things" to effectively help nonprofits have a greater impact. Now there's a standard for what knowledge someone should have to help nonprofits thrive.
Looking to take the Nonprofit Cloud exam this year?
Here's where you'll find a long list of topics to study. Don't forget, you'll need to be a Certified Salesforce Administrator and it's recommended you have at least two years of nonprofit consulting experience under your belt.
Best of luck!
Once you pass, don't forget to add your certification to your LinkedIn page and resume. It's quite an accomplishment.
And of course, if you're looking to join a stellar team of Salesforce nonprofit consultants who believe in making the world a better place and focus on the human side of technology, we'd love to chat.