Salesforce Grant Management: Past, Present, and Future
In 2008, Idealist Consulting embarked on our first Salesforce Grant Management implementation for The Doug Flutie, Jr. Foundation for Autism, which may have been the pioneering Grant Management project using the Salesforce platform. Since then, we have successfully completed over 170 foundation-related grant builds for esteemed organizations like the Hilton Foundation, The James Irvine Foundation, Wikimedia Foundation, and Grameen Foundation. With our extensive experience in the space, Idealist Consulting has gained valuable insights into what makes an effective grant management solution.
Foundations have a long history using the Salesforce platform. Understanding that history is integral to selecting the best solution for your organization's needs. Below we will explore the history of Foundations on the Salesforce platform and guide you toward the best next steps for your organization.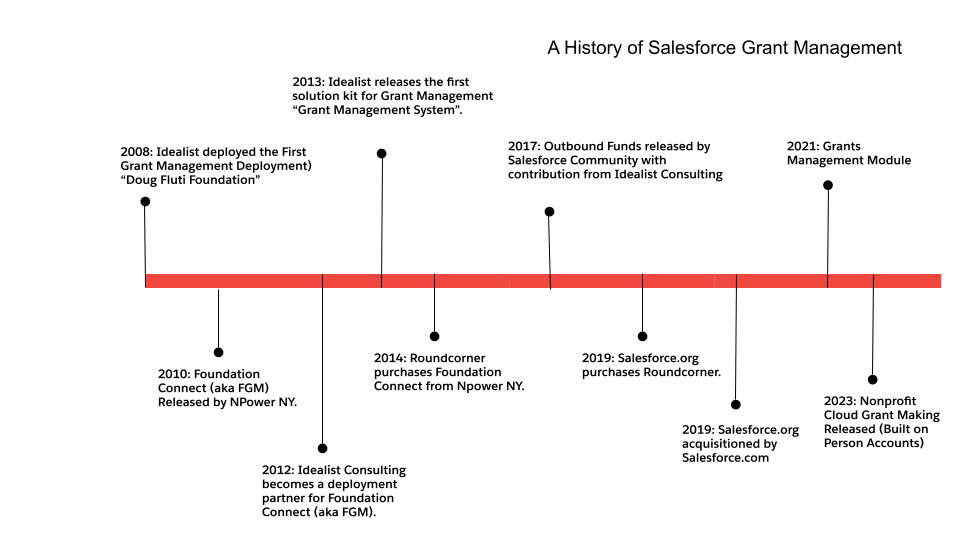 NPSP "Custom" Grant Management (2008 - Present)
Idealist Consulting has been at the forefront of Grant Management solutions on the Salesforce platform. In 2013, Salesforce introduced the first Grant Management solution called "GMS" as an unmanaged package. This solution, though no longer in production, was implemented for over 20 nonprofit organizations, including Banfield Foundation and Ben Austin Associates. GMS aimed to address the challenge of building Grant Management solutions from scratch, providing a standardized approach instead of random development on a case-by-case basis. While GMS paved the way for Grant Management on Salesforce, it was eventually retired to allocate more resources to the creation of foundationConnect.
NPSP "Grant Management" aka foundationConnect (2014 - Present)
The NPSP Grant Management solution evolved from foundationConnect, and was initially designed by NPower NY. Later, RoundCorner acquired foundationConnect to complement their fundraising solution NGOC, which was later purchased by Salesforce.org in 2019. Salesforce.org further refined the development of foundationConnect, transitioning the product from .NET portals to standard Salesforce Experience Cloud portals, now known as Community Licenses. This transition gave rise to NPSP Grant Management, available in three versions: Legacy FC (.NET Portals), Classic FC (Community Visual Force), and NPSP Grant Management (Community Lightning). Each version caters to mid to large-size foundations, with newer releases building upon the strengths of previous versions. NPSP Grant Management will continue to be supported, and organizations using Legacy or Classic versions are encouraged to explore options for migration. Salesforce has announced that they are retiring foundationConnect on January 31, 2026, and organizations will not be able to renew your subscription after January 31, 2025.
NPSP Community "Outbound Fund Management" (2017 - Present)
Recognizing the need for a simplified Grant Management solution for small and midsize nonprofit organizations, the Salesforce community collaborated to develop the Outbound Fund Management Solution (OBFM). Starting at the 2017 Chicago Sprint, this solution was created to track Outbound Funds such as Grants, Scholarships, and Internal Funding Requests. Drawing inspiration from foundationConnect, the solution evolved into a Grant Management solution utilized by small to midsize foundations. Salesforce remains committed to supporting Outbound Funds as an open-source, community-driven project.
Nonprofit Cloud "Grant Making" (2021 - Present)
The acquisition of Salesforce.org by Salesforce.com in 2019 marked a significant milestone for the Grant Management space. The introduction of Salesforce's Nonprofit Cloud product brought about the Grant Making solution, officially released in July, 2023. Built on the Nonprofit Cloud architecture and aligned with the person accounts model, the Grant Making solution seamlessly integrates with multiple Salesforce clouds, including Health & Science and Public Sector. Embracing Salesforce Common Industries Components, such as Omnistudio, Data Processing Engine, and Doc Gen, the solution provides enhanced functionality and ease of integration.
Choosing the Right Solution
It is crucial to note that all three Grant Management solutions discussed in this article are currently operational and offer value on the highly customizable Salesforce platform. To determine the most suitable solution for your foundation, especially if you are still using Legacy or Classic foundationConnect, we recommend reaching out to one of our expert consultants for a needs assessment.
With a range of Grant Management solutions available from Salesforce, organizations can leverage the power of the platform to streamline and enhance their grant processes. Whether it's the NPSP "Custom" Grant Management, NPSP "Grant Management" (foundationConnect), NPSP Community "Outbound Fund Management," or the latest Nonprofit Cloud "Grant Making", Idealist Consulting is well-equipped to assist foundations in finding the right solution. Contact us today if you are interested in the Nonprofit Cloud Grant Making solution or would like guidance in exploring other options, we would love to hear from you!