St. Michael's Abbey Supercharges Their Fundraising with Account Engagement
The Objective
St. Michael's Abbey is a Catholic monastery in Orange County, California with about 50 priests and 40 seminarians studying to become priests. The priests serve in prisons, detention centers, hospitals. As such, they have built a large following.
A few years ago they learned that the current Abbey was sitting on a fault line– so they embarked on an ambitious campaign to raise $120MM to build a new Abbey and maintain operating expenses.
This inspired them to purchase Salesforce and Pardot (now Account Engagement) to help them organize their data and give structure to their moves management strategy. Soon after they also invested in new staff and Idealist Consulting resources to support their ambitious goal.
The Problem
While they purchased Salesforce in 2016 and Account Engagement (then Pardot) in 2017, St. Michael's Abbey didn't find success overnight. They encountered issues with dirty data in Salesforce, and Account Engagement was sitting "on ice" for a while because they did not have internal resources to get it off the ground.
The Solution
After a few false starts on their own, St. Michael's Abbey came to Idealist Consulting for support. Here were the steps we took together:
Step 1: Get Salesforce in place
Idealist Consulting helped migrate St. Micheal's Abbey's legacy data into Salesforce. Then they helped clean up their data and structure it in a way that could be leveraged moving forward.
Step 2: Expand potential donor base by generating more prospects
St. Michael's Abbey engaged a digital video firm to create a 7-part video series released weekly leading up to Easter. The series is called "City of Saints" and showed the work the Fathers participate in on a daily basis.
With the goal to increase prospects, they used Account Engagement to gate the content and expanded their prospect list from 4,000 potential donors to 19,000. They also strategically used the videos to land large gifts from major donors.
Step 3: Convert these prospects into one-time or recurring donors
At this point they knew they needed stronger internal resources for Account Engagement. In 2017, they hired Jeff Ptaszynski as Marketing Director.
To get Jeff ramped up quickly, Idealist Consulting brought in Account Engagemetn Consultant Jacqueline Fassett to hold weekly Account Engagement training sessions and strategy meetings. Together, we improved segmentation and automation to better nurture non-donors and re-engage prospects.
"If you can find someone internally who is smart and capable, even if they don't have background in Account Engagement, that's the key… then partner with a consultant. You can have Account Engagement but if you really want to leverage the horsepower, it was invaluable to have a guide like Jacqueline at Idealist," said Shane Giblin, Chief Advancement Officer.
We also built out Engagement Studio programs using Idealist Consulting's proprietary documents called Playbooks, which help Account Engagement clients efficiently outline their automation needs in order to document and scale them in the future.
Here's a screenshot from a webinar in one Playbook that helped to boost recurring donors. Essentially, the program automated sending personalized emails to non-donors and members to increase engagement and activity.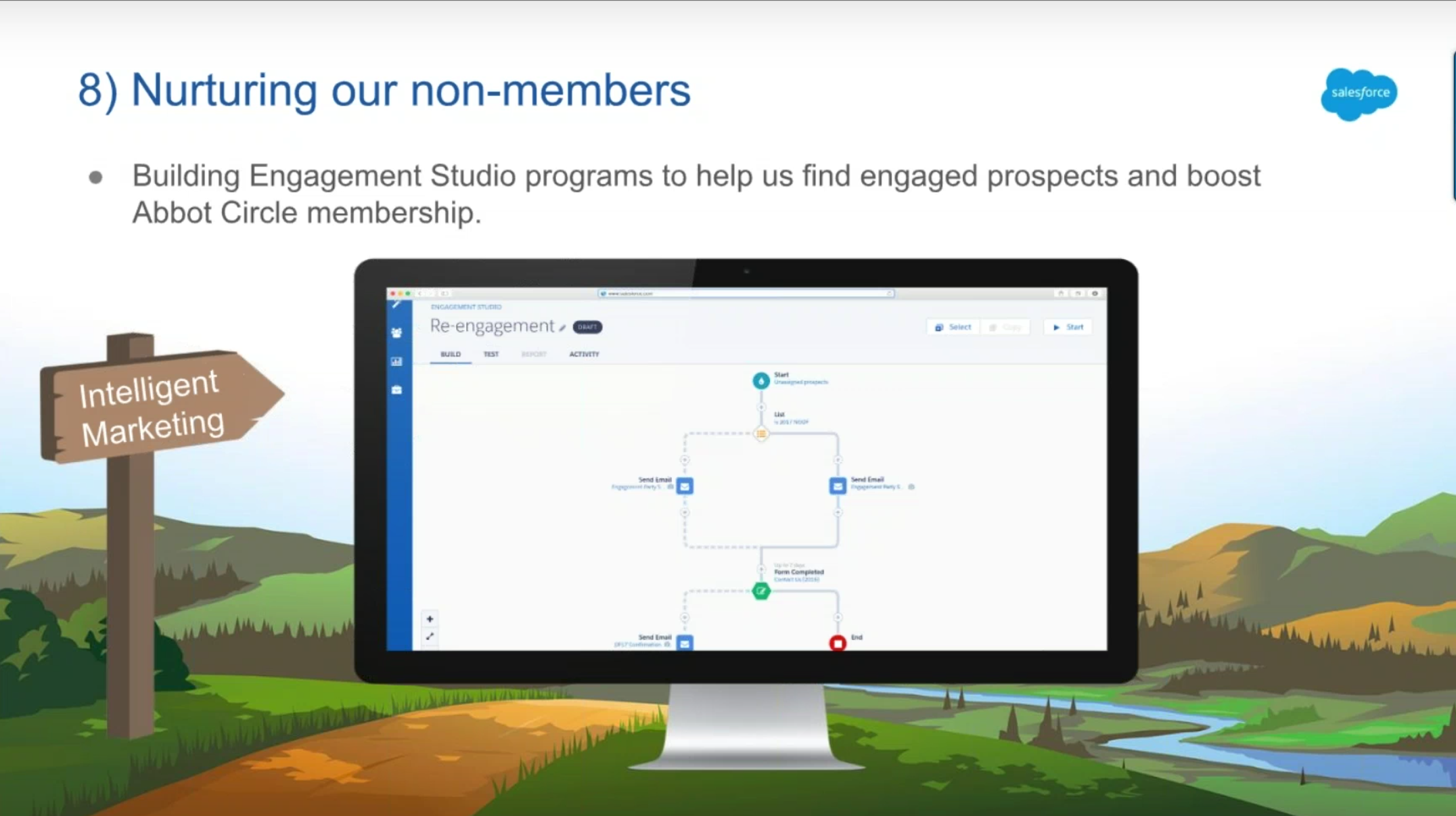 Engagement Studio is a great tool to automate your engagement with prospects.
The Result
Because of the smart progression St. Michael's Abbey took to first clean their data, then generate prospects, then nurture those prospects into donors, St. Michael's Abbey was able to show clear measurable results.
One of the keys to their success was the City of Saints video series, which used Wistia to host and track video activity. This data was added to Account Engagement on a prospect's record through the Wistia-Pardot connector.
They began to use this data to improve their email content and observed a 49% open rate and 57% click to open rate– much higher than the industry standard. They shared these metrics with their board, who became really excited about the new technology.
The end result? They raised 66 times their annual operating expenses, and faster than they had planned. Plus, they had a notable 163% increase in donations (many recurring) from 2017 to 2018.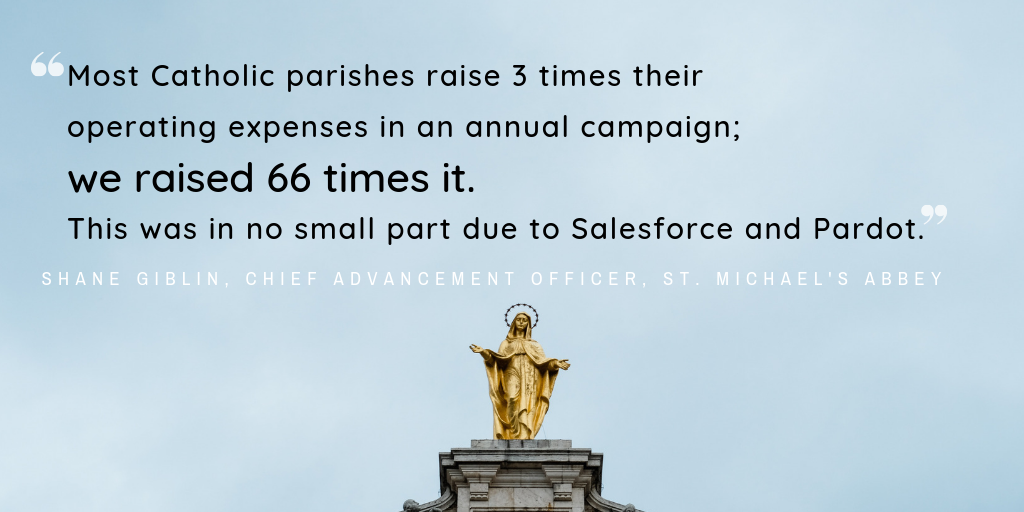 "It wasn't that they all saw the videos and thought, 'I have to give.' [It was] more that it created a palpable momentum and trackable data through Account Engagement that we could leverage into our conversations," said Giblin.
Ready to supercharge your fundraising with Account Engagement (formerly Pardot)?
Idealist Consulting is one of the longest existing Salesforce partners for nonprofits. Our expertise with nonprofits has built us into experts and thought leaders for using Account Engagement for nonprofits. If you're ready to get to work supercharging your development with marketing automation, let us know.