Press Release: Idealist Consulting Honored as 'Best for Workers', Creating Most Overall Positive Employee Impact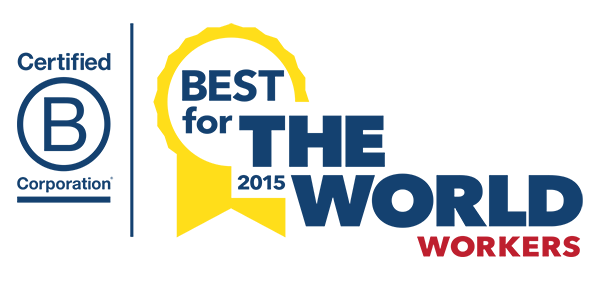 April 14 — PORTLAND, OR —Today, Idealist Consulting was recognized for creating the most positive overall employee impact by the nonprofit B Lab with the release of the fourth annual 'B Corp Best for Workers' list. The 'B Corp Best for Workers' list honors businesses that earned a worker score in the top 10% of more than 1,200 Certified B Corporations from over 120 industries on the B Impact Assessment, a rigorous and comprehensive assessment of a company's impact on its workers, community, and the environment. Honorees were recognized among micro, small, and mid-sized businesses around the globe.
The B Corp 'Best for Workers' list sets the gold standard for high impact companies and demonstrates that any type of company can use business as a force for good. It is part of the 'Best for the World' series, which has inspired the Best for NYC campaign, the first municipal public-private impact partnership in the world to support businesses to create more high quality jobs and improve the quality of life in local neighborhoods, all while strengthening their bottom-line.
Idealist Consulting was one of the first 100 B Corps nationwide, and has been an active part of the Portland B Corp community since 2008. This is the second time Idealist Consulting has received the award. "We are thrilled to help set the standard for a new kind of business," commented Kirsten Kippen, Marketing Manager at Idealist Consulting. "Creating a great work environment is the core of our company, and it's great to see more companies starting to follow this path."
The 98 'Best for Workers' companies come from 31 different industries, including manufacturing, insurance, software development, education and healthcare. 35% of honorees are based outside the US, with companies operating in emerging markets, such as Brazil, Ghana, and Venezuela (See the full list here).
"Today's honorees inspire all companies to compete not only to be best in the world, but best for the world. We hope many will take the first step by using the B Impact Assessment to measure and manage their impact with as much rigor as their profit," said Jay Coen Gilbert, Co-Founder of B Lab, the nonprofit organization that certifies B Corporations and governs the independent third party standard used to generate the comparable assessment of corporate impact. Any company can measure and manage social and environmental performance at bimpactassessment.net.
About B Lab:
B Lab is a nonprofit organization that serves a global movement of people using business as a force for good.  Its vision is that one day all companies compete not only to be the best in the world, but the best for the world, and society will enjoy prosperity for all for the long term. B Lab drives this systemic change by: 1) building a community of Certified B Corporations to make it easier for all of us to tell the difference between "good companies" and good marketing; 2) passing benefit corporation legislation to give business leaders the freedom to create value for society as well as shareholders; 3) helping businesses measure, compare and improve their social and environmental performance with the free B Impact Assessment; 4) driving capital to impact investments through use of its B Analytics and GIIRS Ratings platform. For more information, visit www.bcorporation.net.