Walking a Raiser's Edge: Why Nonprofits Are Migrating to Salesforce
Idealist Consulting has been around for nearly 20 years. As a result, we have experience engaging in a number of technology solutions for nonprofits, primarily Salesforce. However, although we are a longstanding partner of Salesforce, we were once a partner of Blackbaud.
Yes, that's right, back in 2012 we gained partner insights into the Blackbaud solution suite and its various augmentations. The solution suite included, but was not limited to: Common Ground, Luminate, eTapesty, Just Giving, Kintera, and of course Raiser's Edge! Our team has in-depth knowledge of the Blackbaud suite, and when one considers that Blackbaud launched in 1981, our tenure in this space matters. Our exposure to the Blackbaud suite has benefited the over 100 Blackbaud migrations we have facilitated to the Salesforce Nonprofit Success Pack (NPSP), and soon to Nonprofit Cloud.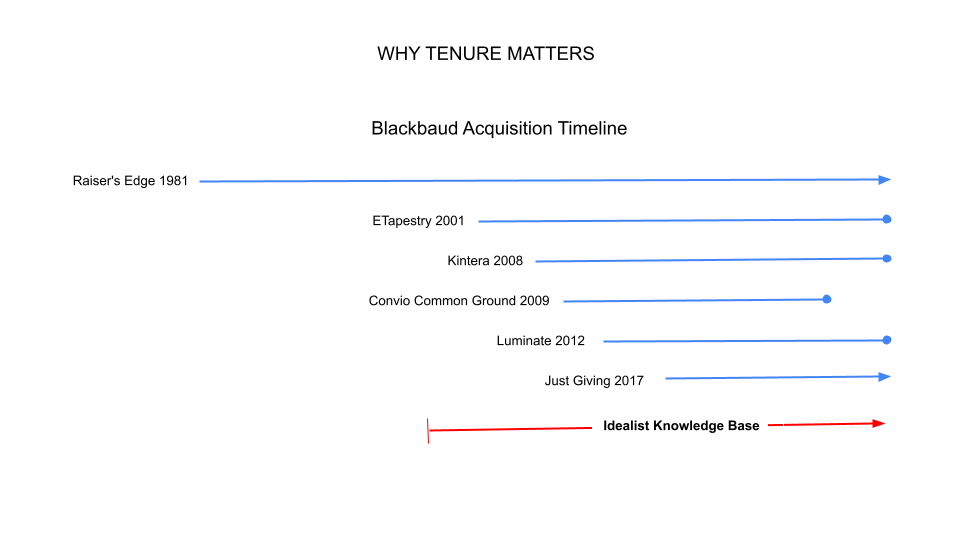 Thanks to our experience in the space, Idealist Consulting has partnered with countless organizations to facilitate their data migrations from Raisers Edge to Salesforce, including notable organizations such as The Academy of Arts and Sciences and Lutheran Immigration and Refugee Services. With our deep understanding of Salesforce functionality and experience, our team of consultants has the knowledge to facilitate thoughtful data migrations for organizations seeking a smooth transition from Raiser's Edge.
Why are nonprofits leaving Blackbaud?
Raiser's Edge, Blackbaud's flagship CRM, has served nonprofits for years but often falls short in meeting evolving needs. Several pain points have been identified by organizations, making the move to a more flexible and robust solution like Salesforce a compelling choice:
Limited Access: Historically, Raiser's Edge lacked accessibility, preventing users from accessing the platform on mobile devices or remote computers. With the advent of Raiser's Edge NXT, this limitation was addressed, but many nonprofits still seek greater flexibility in accessing their CRM.
System Configuration Challenges: Raiser's Edge has a complex and inflexible architecture, making it difficult for organizations to customize the system according to their unique requirements. Nonprofits are often forced to adapt their processes to fit within Raiser's Edge's predefined structure, hindering their operational efficiency.
Reporting and Analytics: Raiser's Edge relies on queries and often requires the assistance of an administrator to generate comprehensive reports. Obtaining meaningful analytics from the data can be challenging, leading organizations to rely on external tools for in-depth insights.
Limited Integration Options: In the past, Raiser's Edge offered limited integration capabilities with non-Blackbaud solutions, restricting organizations to a smaller toolset. While Raiser's Edge NXT introduced outside integrations, leveraging them often requires additional resources and costs.
If your organization is struggling with any of the above challenges, it may be time to consider a data migration. Not only does Salesforce offer powerful functionality and tools for database management and reporting, but it also remains a flexible, scalable platform that grows with your organization. Moving your mission's data to a new system can be daunting, but will ultimately unlock new levels of growth and opportunity to increase impact.
How to make the move: The Idealist Migration Framework (IMF)
Migrating data from Raiser's Edge to Salesforce can be a time-consuming process and requires a skill set and methodology to ensure that data mapping recognizes all the fields, formats, and relationships required to track and manage your mission efforts. Moreover, handling a large volume of historical data adds complexity and time to the migration process. To date, Idealist Consulting's largest migration was completed for a global humanitarian aid organization and involved the migration of over 22 million records. Coordinating a migration effort while minimizing disruption and ensuring data security further complicates the process. To ensure a smooth transition, a comprehensive migration strategy, experienced professionals, and thorough testing are essential.
In addition to our strategy, experience, and testing, we have developed our proven data migration process, The Idealist Migration Framework, as part of our larger project management methodology, The Idealist Way. This agile approach accommodates various migration scenarios while prioritizing data security and solvency–key attributes of any migration effort.
Why does process matter?
Migrating from Raiser's Edge requires careful consideration of various attributes, including the number of users, modules, tables, and years of database utilization. Our team of consultants brings their extensive expertise to this process, distinguishing between important and unimportant components within Raiser's Edge. This extra thoughtfulness and purposeful migration effort coupled with the Idealist Migration Framework saves valuable time, money, and frustration during the process, ultimately resulting in a CRM that holds actionable data, organized intuitively for optimal decision-making and reporting.
Considering a move?
Many nonprofits are seeking alternatives to Raiser's Edge. With our team's proven track record in facilitating data migrations and our deep understanding of the Salesforce platform, we are an ideal partner for nonprofits looking to streamline data management processes.
If your organization is considering a migration from Raiser's Edge or another CRM, give us a call to talk it through. We can provide guidance throughout the process, ensuring a seamless transition to Salesforce and empowering your nonprofit with a flexible, scalable CRM solution. Don't let outdated systems hinder your mission—take the leap towards improved data management today.
If you'd like to dive deeper into this topic, check out these blog posts:
Raiser's Edge vs. The Nonprofit Starter Pack: A Nonprofit Technology Showdown
A Raiser's Edge Migration Guide for Fundraisers
Why Data Migration is Tricky and What You Need to Know About It